BioFit Introduces Solution to Extend Mobile Folding Table Life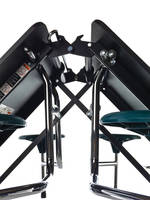 BOWLING GREEN, Ohio — BioFit Engineered Products, a leading designer and manufacturer of ergonomic seating and mobile folding tables, today announced the invention of a patent pending part that will extend the usable life of the company's tables. Called the "adjustable torsion cap," the component was designed to restore the original level of torsion to the lift-assistance devices of previously marketed tables.  Resetting the torsion level facilitates folding and unfolding, eliminating the need to replace the lift bars.



Foldable tables utilize assist devices to help move the table from an unfolded open position to a folded closed position. Such devices are necessary as particular models can be large and heavy, making it difficult to fold and unfold the table without them. Assistance devices can also provide some resistance during the unfolding process, preventing the overly rapid movement of the sections of the table as it is unfolded. 



When a table is folded into the storage position, there is little to no tension on the lift-assistance bars. However, when the table is unfolded for use, the legs rotate away from the table top, twisting the lift bars and creating torque. After years of folding and redeployment cycles, the bars can lose some lifting force. A decrease in lifting force is also prevalent in tables frequently left in the open position, which places tension on the lift-assistance device over the entire time the table is open.  Due to the weight of the tops of some table models, even a slight decrease in force can affect how easily the table can be lifted to the folded position and the speed at which it unfolds. BioFit discovered that the addition of an adjustment capability to the torsion cap design provided the ability to reestablish and maintain the original level of lift bar torque.  BioFit president Ed Metzger expanded on the benefit of the new part: "Moving forward, incorporating the adjustable torsion cap into our table design will eliminate an age-old issue with lift-assistance devices.The new cap will ensure the lift capability of tables through the life cycle of the product. This can enable customers to save money by delaying the need to replace a table. Additionally, replacing original capswith the new adjustable cap will provide a cost effective way of refreshing the lift on older tables in the field."



BioFit will install the adjustable torsion cap on all new tables which use lift assistance bars. The company will also offer retrofitting on previously sold tables on a case-by-case basis.



Located in Bowling Green, Ohio, BioFit Engineered Products is a leading manufacturer of LEED-compliant, ergonomic chairs and stools, GREENGUARD-certified mobile tables, carts and accessories for healthcare, education, laboratory, industrial, technology and office environments. For more information, visit www.biofit.com or call 800-597-0246.