Biodispersion Product remediates accidental oil spills.
Press Release Summary: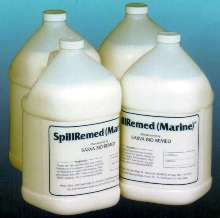 SpillRemed provides safe, environmentally friendly, on-site remediation of accidental oil spills in commercial, industrial, and residential buildings. No removal of soil or water is necessary to achieve successful clean up. Product uses cultures of indigenous populations of oil degrading bacteria to effectively dissipate fuel oil. No genetically modified organisms are released in treatment process.
---
Original Press Release:

On-Site Bioremediation for Contaminated Soil and Water Quickly Resolves Fuel Oil Spills


Trenton, NJ - Sarva Bio Remed LLC. announces that its biodispersion product SpillRemed quickly and efficiently remediates accidental oil spills in commercial, industrial and residential buildings.

"Accidental fuel oil spills in the basements of businesses and homes occur all too often," says Satya Ganti, Sarva Bio Remed's president. "They are especially troublesome because of overpowering and dangerous fumes, the risk of contamination spreading to neighboring properties, and the possible pollution of local ground water," he adds.

According to Ganti, remediating these spills traditionally requires costly and extensive efforts due to difficult and limited access to basements for removing affected soil. Businesses and families are disrupted for weeks and months. But now, SpillRemed, a product of the company's advanced biodispersion technology, offers safe and environment friendly on-site remediation. No removal of soil or water is necessary to achieve a successful clean up, saving thousands of dollars.

The cornerstone of the biodispersion process, explains Ganti, is the cultivation of cultures of indigenous populations of oil degrading bacteria, and nurturing their inherent properties to effectively dissipate fuel oil. The company states that no genetically modified organisms are released in the treatment process.

In a recently conducted clean up of a 140 gallon spill in a Pennsylvania home, the company reports basement fumes and fuel oil odor were gone one hour after treatment with SpillRemed. After two additional applications of SpillRemed, the homeowners were able to reoccupy their house.

An analyses of soil samples taken from spilled fuel oil at a Virginia residence showed TPH values of 18,800 ppm. After just four weeks of treatment with SpillRemed, the TPH values were reduced to 290 ppm, a 98% reduction, well below the state's acceptable limits of 500 ppm.

With an ever expanding line of SpillRemed products available for environmental remediation, Sarva Bio Remed LLC is providing an environment friendly, on-site and cost effective solution to fuel oil spills in the world's oceans, rivers, in ships' bilge tanks and on land. The company also provides consulting services to industrial companies for the remediation of their oily wastes.

For further information, contact Sarva Bio Remed LLC, 36 South Broad Street, Trenton, NJ 08608. Phone Toll Free: 1-877-71-SARVA (1-877-717-2782); Fax: 419-710-5831; E mail: sales@sarvabioremed.com; Web: www.sarvabioremed.com

More from Cleaning Products & Equipment