Bin Vibrators have no rotating or sliding parts.
Press Release Summary: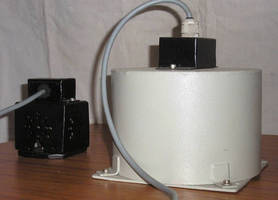 Featuring dust-tight construction, maintenance-free electromagnetic bin vibrators are suited for continuous or intermittent operation and maintain flow of bulk materials from bins, hoppers, and chutes. Encapsulated coils prevent wire degradation and also provide protection from moisture and other contaminants. With optional adjustable control, vibration force can be varied with simple turn of potentiometer. Water-proof models are also available.
---
Original Press Release:

Elscint Bin Vibrators / Agitator Vibrators



Elscint Electromagnetic Bin Vibrators offer an economical and convenient means of maintaining the flow of bulk materials from bins, hoppers and chutes. An optional easily adjustable control is provided, which gives flexibility and assures optimum flow for any type of material being handled. Furthermore, Elscint Electromagnetic Bin Vibrators can be operated either continuously or intermittently depending upon customer requirements. To assure the highest standard of quality, Elscint Electromagnetic Bin Vibrators are factory tested and adjusted for optimum performance.

All models come with totally enclosed, dust-tight construction. Even water-proof models can be made available on request. Since these vibrators have no rotating or sliding parts, they are virtually maintenance-free. Elscint Electromagnetic Bin Vibrators come with the guarantee of Elscint Automation, who has been providing vibratory feeding solutions to the global industry for the last 25 year. The major features and benefits of Elscint Bin Vibrators are -

Electromagnetic design

o No rotating or sliding parts & hence virtually maintenance-free!

o Ideal for continuous or intermittent operation

Optional adjustable control

o Can vary vibration force with simple turn of potentiometer

Totally encapsulated coils

o Provides protection from moisture and other contaminants

o Prevents wire degradation

Productivity enhancing performance

o No need for manual labor to unclog bins or for keeping material flowing

Simple design, durable, rugged construction

o Safe, reliable performance for years of service

Two models to choose from



Elscint A       40 VA rating

Elscint B       320 VA rating



Low noise

o Quiet, reliable operation

Monish Shete

Elscint Automation

W-191 Bhosari MIDC,

Pune 411 026. India

Tel.: +91-20-27122059

Fax: +91-20-27122994

E-mail - sales@elscintautomation.com

Website - www.elscintautomation.com

More from Mechanical Power Transmission