Billet Industries Increases its CNC Turning Capacity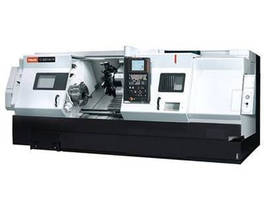 Billet Industries, located in York, PA, is pleased to announce the addition of larger CNC turning capabilities.  The Mazak QT Nexus 450M-II adds to our list of cutting edge equipment and gives us the ability to complete larger parts in a more efficient manner. Its live tooling allows multi-tasking operations to be completed in one work-center.  The QT Nexus CNC turning center brings advanced technology and exceptional performance for our growing customer base.  For more information on this machine visit  https://lnkd.in/e7skakQ.



About Billet Industries:



At Billet Industries, we understand the needs of our clients and are continually changing and evolving with cutting-edge machinery.  We seek out and embrace the latest machining technologies designed to continually improve the efficiency we can deliver to our customers.  This allows us to support our ongoing commitment to high-quality craftsmanship and service.



Billet is a Veteran-Owned Small Business servicing Industry since 1972.   We offer a comprehensive machining services including CNC Turning, CNC Milling, Precision Grinding, Broaching, Prototyping, Welding, Assembly and more. We are certified to ISO9001:2008,  ITAR Registered, and offers capabilities that meet the most stringent quality requirements in the Industrial, Aerospace, Medical, Food, Renewable Energy and Military sectors.  For more information, please call 717-840-0280 or visit our website www.billet-industries.com.



Related