Bijur Delimon and Fisher Precise Collaborate to Improve Air/Oil Spindle Lubrication Technology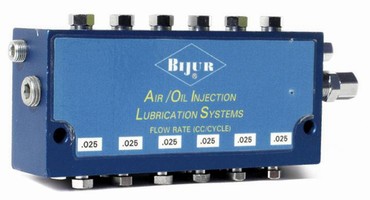 Bijur to provide advanced air/oil mixing blocks for
Fischer Precise spindles with air/oil lubrication

CHICAGO (September, 2006) - Bijur Delimon International, a global leader in automated lubrication systems for manufacturing equipment, has received approval from Fischer Precise to provide Bijur AV-H air/oil mixing blocks on spindles sold with air/oil lubrication.

The Bijur AV-H block is a unique close-tolerance mixing valve, delivering as little as 0.01 cubic centimeters per cycle into a controlled airflow to provide both lubrication and cooling. This action allows for higher running speeds and reduced friction. The Bijur AV-H block delivers lubricant at an industry-leading accuracy rate of +/- 5 percent on discharge.

"We worked in close liaison with Fischer Precise engineering to produce the most accurate air/oil mixing block in the industry and provide a solution that best fits the needs of Fischer Precise customers," said John Pearce, Director, International Business Development for Bijur Delimon International.

The Bijur AV-H block is available with one to eight outlets, and discharge rates from 0.01 to 0.40 cc/cycle. The valve may be provided with fixed airflow or with individual adjustment. Air/oil lubrication can reduce oil consumption 50% compared to airline "mist" lubricators. Furthermore, the oil output can be monitored for precise delivery.

"Fischer Precise is a worldwide leader in the development, manufacture and application of precision spindles for milling and grinding", said John Easley, VP Sales and Marketing for Fischer Precise USA. "We are continually striving to meet and exceed customer expectations by running our spindles at increasingly higher RPMs. The accuracy of the Bijur AV-H air/oil block very well complements our technical requirements for spindles running at 100,000 RPMs."

Bijur Delimon International will be exhibiting at IMTS 2006 (Booth D-4148) and will feature a Fischer Precise spindle in its booth, along with a lubrication panel highlighting the Bijur AV-H air/oil mixing block. For more information, contact Scott Batchelor, Bijur Delimon International Marketing Manager at 919-465-4448 or pr@bijurdelimon.com.

Fischer Precise will be exhibiting at IMTS 2006 (Booth D-4719). For more information, contact John Easley, V.P Sales and Marketing at 262-632-6173 or john.easley@fischerprecise.com.

About Fischer Precise Spindles
All over the world, Fischer Precise spindles are a leading brand. The company is focused on milling and grinding technologies and feature tailor-made products of unparalleled quality. They are used with high-speed machining centers and grinders where minimum operating times are essential.

About Bijur Delimon International
Bijur Delimon International is a global leader in the design and manufacture of diverse fluid dispensing and complementary product lines. Lubrication dispensing products range from simple single-point grease feeders to complex automatic systems that dispense oil or grease to hundreds of points. Bijur Delimon International has major manufacturing and distribution facilities in the United States, China, France, Germany, Austria, England, Ireland and Spain. Principal industries served include: machine tools, packaging, processing, railroad, trucking, heavy construction equipment, steel, mining, printing, food and beverage, textiles and material handling. Brands include Bijur, Delimon, Farval, LubeSite, Delimon-Denco Lubrication, and ChassisCare.


More from Sensors, Monitors & Transducers