BIG KAISER to Display Latest Innovations and Accessories at EMO Show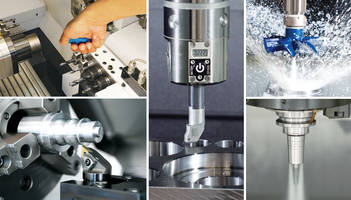 Hoffman Estates, IL – BIG KAISER, a global leader in premium high-precision tooling systems and solutions for the metalworking industries, will display innovative tooling and accessories at the upcoming EMO Hannover Show (Hannover, Germany) in Hall 3, Booth B14, September 16-21, 2019.
BIG KAISER's recent contributions to the industry are a set of innovative solutions designed specifically to keep machines and processes running smoothly and effectively. Among those is its new EWA system – the future of fine boring. With the EWA, based on BIG KAISER's EWE digital fine boring heads and the EWN precision boring heads, there is no need to stop the machine tool to take measurements and manually adjust the boring tool, which saves considerable time. By eliminating the human factor, the likelihood of scrapping expensive workpieces due to human error is mitigated. This reduces costs, improves accuracy, and enables handling of multiple bore sizes and repeatable bores.
Another innovative solution on display will be the new MEGA Micro Coolant Nut, made specifically for MEGA Micro Chuck 6S. This allows for more efficient coolant supply for the micro cutting tool and is ideal for high-speed micro machining up to Ø6.
The updated hydraulic chuck with switchable coolant supply also will be showcased at EMO. Models for Ø 4-12, HDC4J-12J, allow switching from a center- or peripheral-coolant source.
New, smaller sizes of the C4 Turning Tools will be making an appearance of their own—thus expanding our lineup.
Don't miss the hydraulic chuck for Swiss lathes; its single wrench enables easy cutting tool exchange on the gang slide for faster setups. The chuck delivers highly accurate runout and repeatability.
The ChipFan provides a safer and faster method of removing chips and coolant from your tables, fixtures and workplaces than conventional air, eliminating time and energy wasted.
BIG KAISER will be unveiling C-Center Cutter Inserts include two new coated inserts–ACM250F for stainless steel and DS20 for aluminum--allowing for expanded precision and versatility.
See all of these products and BIG KAISER's full product offering at EMO. For more information about BIG KAISER at EMO 2019, visit the EMO site (https://www.emo-hannover.de/exhibitor/big-kaiser/062081).
BIG KAISER is a worldwide leader in high-precision tooling systems and solutions for the metalcutting industry that guarantee extreme accuracy and repeatability. Our products are of the utmost quality — manufactured with materials and craftsmanship that enable superior performance. As a member of the BIG DAISHOWA Group (Osaka, Japan), BIG KAISER has grown into a well-recognized global tooling provider, with manufacturing facilities in North America, Switzerland and Japan. In addition, BIG KAISER is the North American representative of Speroni tool measuring machines, Sphinx high performance drills, mptec measuring stands, Tekusa spindle cleaners and the UNILOCK zero point work holding system by Innotool.
For more information, contact BIG KAISER, Hoffman Estates, IL, at 224-770-2999, e-mail [email protected] or visit www.bigkaiser.com
Contact
Gillian Campbell
BIG KAISER
224-770-2920