BIG Kaiser Further Expands Comprehensive Line-Up at IMTS Booth W-1600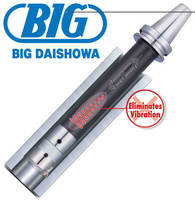 Hoffman Estates, IL - BIG Kaiser Precision Tooling Inc. continues to expand its product line, staying true to its mission of bringing the highest quality, most precise, most reliable and most accurate tooling and accessory products to market. Products showcased in BIG Kaiser's 2012 IMTS portfolio carry the same genes as their established predecessors, designed to ensure productivity through precision, repeatability and speed.

The Kaiser Series 310 EWD Precision Finish Digital Boring Head features absolute setting accuracy shown on a built-in digital display. The robust measurement system shows precise linear movement of the tool carrier in both directions during adjustments of .00005" or .001mm. These boring heads use existing insert holders from program 310 EWN to allow maximum boring range per head, and compatibility with existing special design insert holders. An IP 69K seal rating (highest possible) assures resistance to contamination.

Kaiser's SW Accessory Insert Holders for the Series 319 SW Rough Boring System are available for chamfering and back boring purposes. Insert holders for chamfering cover the diameter range of 1.299" to 8.268". The desired chamfering angle is adjustable from 15° to 75°. For back boring, the new insert holders cover the diameter range of 1.732" to 8.307".

BIG Daishowa's newest solution in extended reach arbor technology, the Smart Damper (Pat. P), features a unique dynamic damping system that eliminates vibration and instantaneously reduces chatter for higher productivity in deep hole finish boring and extended reach face milling. This translates to better surface finishes and higher metal removal rates. Models are designed for Kaiser modular boring tools with KAB4-KAB6 connection, and for shell mill arbors with a ø1" pilot, and all offer center through coolant delivery.

Also new from BIG Daishowa is the R-Cutter (Pat. P), an ultra high feed front and back radius chamfering mill which features high rake angles that reduce cutting resistance and minimize burr generation. The radius chamfering mill is offered as a single-insert design and a four-insert design for higher feed rates. The insert design allows for four indexes, and is available with radii of .02"-.16".

The ATC Alignment Tool is the latest in BIG Daishowa's wide range of precision machine tool inspection, installation and repair solutions. When loading a tool holder, any misalignment of the machine tool spindle and the ATC gripper may damage the spindle taper. A misaligned, clamped tool holder leads to increased runout, thereby shortening the life of the spindle, cutting tool and tool holder. The ATC Alignment Tool allows operators to easily avoid such problems by making sure the gripper is grabbing and placing the tool holder with extreme precision. The tool features a built-in stylus that determines the eccentric direction when rotated. The values are displayed on a 10 micron/div. dial indicator for easy adjustment.

Two new tool presetter solutions will be making their North American debut - a new and improved entry-level Diaset contact presetter, and the floor standing CNC Speroni Futura. The Futura is Speroni's finest model yet, taking its sleek and modern look from the smaller Magis model, and its robustness and repeatability from the Esperia line, and mixing it all together with a magnitude of improvements in software, convenience and ergonomics. The Diaset bench-top presetter, by Innotool Austria, underwent a major design overhaul, including new mineral cast construction, an "easy-run" system for fast axis movement, a more robust spindle and a brand new digital control readout.

Also new from Innotool is ROC® Mineral Cast tombstone workholding technology, which features excellent attenuation attributes at a low weight. The mineral casts' low thermal conductivity means low reactivity to temperature changes, and the low weight is even lighter than aluminum. The casts are chemically and mechanically resistant to aggressive and abrasive media, and are corrosion resistant. In unison, these features account for a 30 percent increase in the life of machine tools. Because ROC tombstones are cast instead of cut out of metal, virtually any form and any integration is possible, including inserts like chucks, threads, plates, or air/hydraulic tubes. ROC Mineral Cast will be shown equipped with the Innotool's Unilock zero-point clamping system integrated on its faces, representing a complete quick-change workholding solution.

Building on the success of Phoenix high performance drill, Sphinx has introduced the new Power-Phoenix extra long high performance drill series. The drills are ideal for use in steel, stainless steel, cast iron, aluminum and titanium. The series is designed for optimal performance in 0mm deep hole applications. Power-Phoenix drills feature a four-margin geometry (above 2.) for stability, ensuring a straight hole in deep drilling applications. A unique point grind ensures consistent chip formation, while specially designed polished flutes allow for rapid chip evacuation. The Power-Phoenix is available from 1mm-12.7mm in 16xD, and from 3mm-10mm in 20/25/30xD.

In another development, Sphinx has introduced its Micro Tricut Drill in sizes down to ø.20mm. The three-fluted feature serves two purposes: the additional flute provides an achievable hole tolerance of H7 and a fine surface finish, and starts to approximate the performance you would realize from a separate reamer operation- all in one pass. Although the Micro Tricut will not provide as a fine of a surface as a fine finish reamer or finish boring operation would, it's still better than what is possible with a standard twist drill. The Micro Tricut is perfect for short-chipping steels, cast iron and titanium.

BIG Kaiser Precision Tooling is a leader in high precision tooling systems and solutions. With brands including BIG Daishowa, Kaiser, Speroni, Unilock, Sphinx and more, BIG Kaiser's line is focused on extreme accuracy and repeatability. BIG Kaiser's mission is to support North American manufacturers with products that are designed and manufactured to a superior standard. Guaranteed.

For more information about any of the products listed above, make sure to visit BIG Kaiser at IMTS Booth W-1600.


More from Agricultural & Farming Products