BIG KAISER Expands BBT30 Tool Holder Offering, Adds Production in U.S.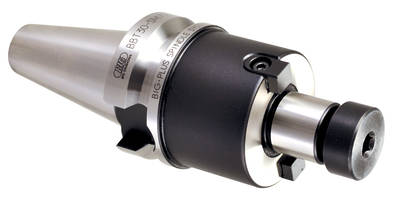 Hoffman Estates, IL – BIG KAISER, a global leader in high-performance tooling and systems for metalworking industries, has added inch standard sizes for the U.S. market to the production of its BIG-PLUS BBT30 basic arbors (shell mill holders, end mill holders, shrink fit and blanks). The first batch of products produced in the U.S. with inch standard sizes is now available. The expansion allows for enhancements to the BBT30 program that satisfy demands specific to the North American market.
Custom tools can be ordered, produced and delivered more quickly.
An inch-based BBT30 shrink fit series is being introduced to complement the 10 metric sizes currently offered. Standard items available in sizes 1/4", 3/8", 1/2", 5/8" and 3/4".
A single blank size has been added to give customers the ability to make special tools on their own. Additional grinding services and custom manufacturing are available.
To learn more about BBT30 basic arbors, and other tool holders from BIG KAISER, visit bigkaiser.com/en/products/tool-holders.
BIG KAISER is a worldwide leader in high-precision tooling systems and solutions for the metalcutting industry that guarantee extreme accuracy and repeatability. Our products are of the utmost quality — manufactured with materials and craftsmanship that enable superior performance. As a member of the BIG DAISHOWA Group (Osaka, Japan), BIG KAISER has grown into a well-recognized global tooling provider, with manufacturing facilities in North America, Switzerland and Japan. In addition, BIG KAISER is the North American representative of Speroni tool measuring machines, Sphinx high performance drills, mptec measuring stands, Tekusa spindle cleaners and the UNILOCK zero point work holding system by Innotool.
For more information, contact BIG KAISER, Hoffman Estates, IL, at 224-770-2999, e-mail bigkaiser@us.bigkaiser.com or visit www.bigkaiser.com.
Contact:
Gillian Campbell
BIG KAISER
224-770-2920
gillian.campbell@us.bigkaiser.com
More from Computer Hardware & Peripherals