Big Bore Turning Centers machine large oil field components.
Press Release Summary: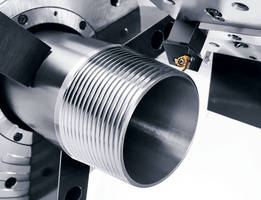 With through-spindle holes from 7.08–14.57 in. dia for large pipes, Hi-TECH BB & BB+ turning centers offer ASA A2-15 to A2-20 spindle noses and come in long bed versions from 84–216 in. Max cutting diameter on Hi-Tech 850BB is 36+ in. Along with 13 in. turret width, boring bar capacity to 31 in., and 20,000 kg clamping force, features include 4-speed automatic transmission system, heavily ribbed torque tube design, and Fanuc 0i control with Manual Guide i dialog-based programming system.
---
Original Press Release:

Hwacheon Adds Massive Big Bore Turning Centers for Oil Field



Vernon Hills, IL – Hwacheon Machinery America has introduced a line of large turning centers specifically for machining large oil field components, called Big Bore, based on its successful Hi-Tech 550, -700, and -850 horizontal turning centers. Each turning center offers best-in-class spindle torque, permitting productive cutting in tough material up to 36 in. diameter and more than 216 in. in length.



The new Hi-TECH BB & BB+ turning centers feature through-spindle holes from 7.08" to 14.57" in diameter for large pipes. Maximum cutting diameter on the Hi-Tech 850BB is over 36 in.—best in its class of machines. Large air chucks can be fitted at the front and back of the spindle. Specifically, the range is: HT-550BB with a 7.08" through-spindle hole; HT-700BB offers 7.08" BB+ 11.61"; and HT850 has 11.61" with BB+ at 14.57". Spindle noses: ASA A2-15 to A2-20. Long bed versions of the centers are available from 84 in. to 216 in.



The 4-speed automatic transmission system allows low-speed, high-torque turning as well as high-speed machining. Ultra-precision recuperative cylindrical roller bearings and the multiple thrust angular bearing have been incorporated to enable hard turning of tough alloys. The spindle may be geared down for extra torque to process a wide range of materials. All machines feature Hwacheon's  heavily ribbed torque tube design.



All BB turning centers are built with integrated bed frames of fine grain meehanite castings to minimize heat distortion. Plus, all guide ways are designed as solid box guide ways to maintain rigidity and precision even during prolonged, heavy operations. In addition, Hwacheon's advanced thermal displacement control prevents deterioration machining tolerances due to thermal displacement. A jet of lubrication is constantly applied to the spindle bearing for lubrication and cooling, prolonging machine life and the machining precision.



Designed for Heavy Duty Cutting, Deep Hole Machining

Other features of the turning centers make them the ideal choice for cutting large parts. These include the best specification servo turret in its class, largest turret width (13 in.) in its class, and a boring bar capacity to 31 in. In addition, the turning centers can handle multi-tasking machining with a Y axis head with stroke of 9 in. and rapid positioning speed of 10m/min.



Heavy-duty bearings in the turning center's tailstock assure a high degree of precision even after prolonged heavy-duty turning on a large, heavy workpieces. Machines also feature a 20,000 kg clamping force. Quill diameters range from 120mm to 160mm housed in a rugged built-in quill structure. The large steady rest capacity is 20 in. An air chuck is optional.



Each turning center is controlled by the Fanuc 0i control with Manual Guide i. Manual Guide i is a dialog-based programming system, allowing even a beginner to write an advanced program by following simple dialogs and menus. The data can easily be used to present a 3D model of the work and process, providing the operator with the preview of the actual outcome.



About Hwacheon

Hwacheon Machine Tools was founded in 1952. The fully vertically integrated builder is unusual among machine builders in that it casts its own bases and columns, hand scrapes box ways, and provides a full suite of software for each of its machines. For Hwacheon, uncompromising quality and machine tool durability are essential.



Hwacheon Machinery America, subsidiary of Hwacheon Machinery, Korea, is located in Vernon Hills, IL. Tel. 847-573-0100. www.hwacheon.com. Hwacheon is a full-line builder of machining centers and CNC lathes as well as a key supplier to the automotive industry.





Hwacheon North America editorial contact:

David Arnesen

dave@arnesenmarketing.com

810.229.2299





More from Controls & Controllers