DC to DC Power Supplies (Converters)
Bidirectional DC-DC Converter suits energy storage systems.
Press Release Summary: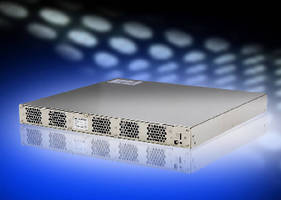 Intended for solar or wind powered energy storage systems, 2,500 Watt Model EZA2500-32048 can automatically, and continuously, change conversion direction from grid side 320 Vdc nominal to battery side 48Vdc nominal. Output voltage and current can be programmed or monitored using RS-485 communications port. Suitable for mounting in cabinets measuring 423 x 400 mm and 1U high, converter operates at full power in ambient temperatures from -10 to +40°C and achieves 94% efficiency.
---
Original Press Release:

Bidirectional DC-DC Converter for Use with Energy Storage Battery Systems



TDK Corporation announces the introduction of the TDK-Lambda 2500W EZA2500-32048 bidirectional DC-DC converter.  Ideal for solar or wind powered energy storage systems, this power supply can automatically, and continuously, change conversion direction from "grid side" 320Vdc nominal to "battery side" 48Vdc nominal.  The EZA2500 is also designed to be used for energy recovery; recycling previously wasted power from battery testers, robots, cranes, elevators and autonomous ground vehicles.



When a 300 to 380 high voltage dc source is available, for example from solar panels during daytime, the converter can be programmed to charge 48Vdc rechargeable lithium-ion battery banks.  At night the stored energy can then be converted back to high voltage dc to power either DC-AC inverters or dc-input electrical/electronic devices.



When used as part of an energy recovery system, the previously wasted power lost due to motor braking can be used to charge batteries.  That stored energy can then be used to supply peak power requirements needed during high torque conditions or as emergency standby power.



The EZA2500's output voltage and current can be programmed or monitored using the RS-485 communications port.  Several converters can be paralleled to provide additional power by programming the units into droop-mode current share via the RS-485 interface.  A variety of signals and alarms are also accessible including under or overvoltage alerts or remote on-off.



The converters can operate at full power in ambient temperatures ranging from -10 to +40oC.  The advanced digital control enables operating efficiencies of up to 94% to be achieved. The EZA2500 is suitable for mounting in 19" cabinets, measuring 43.6mm (1U) high, 423mm wide and 400mm deep.



The converters are fully isolated – 3kVac from grid side to battery side input/outputs, 2kVac from grid side to ground and 500Vac from battery side to ground.  The units are certified to UL/CSA 60950-1, EN 60950-1 and carry the CE mark for the LVD and RoHS2.    The EZA2500 is backed by a five-year warranty.



More information can be obtained at the following TDK-Lambda Americas website, http://www.us.tdk-lambda.com/lp/products/eza-series.htm, or by calling 800-LAMBDA-4.  Product availability for the EZA2500-320048 can be found via the link to TDK-Lambda's distributor network (see "Check Distributor Stock to Buy") at http://www.us.tdk-lambda.com/lp/.



Major applications

Battery storage for solar/wind power installations or energy recovery systems for battery testers, robots, cranes, elevators and autonomous ground vehicles.



Main features and benefits

• Up to 94% efficient

• RS-485  communications for control and monitoring

• Seamless bidirectional switching

• Compact 1U enclosure



Major specifications

Model  EZA2500-32048

Input / output voltages Vdc Grid side: 300-380Vdc, battery side: 36-60Vdc

Input / output currents A Grid side: +/-7.8A, battery side: +/-52A

Output power W 2500W

Communications - RS-485

Front Indicators and Settings - Operating mode (Generating, Regenerating), Alarm & RS-485 address selection

Size (H x W x L) mm 43 (1U) x 423 x 400mm



About TDK Corporation

TDK Corporation is a leading electronics company based in Tokyo, Japan. It was established in 1935 to commercialize ferrite, a key material in electronic and magnetic products. TDK's portfolio includes electronic components, modules and systems* which are marketed under the product brands TDK and EPCOS, power supplies, magnetic application products as well as energy devices, flash memory application devices, and others. TDK focuses on demanding markets in the areas of information and communication technology and consumer, automotive and industrial electronics. The company has a network of design and manufacturing locations and sales offices in Asia, Europe, and in North and South America. In fiscal 2014, TDK posted total sales of USD 9.6 billion and employed about 83,000 people worldwide.



* The product portfolio includes ceramic, aluminum electrolytic and film capacitors, ferrites, inductors, high-frequency components such as surface acoustic wave (SAW) filter products and modules, piezo and protection components, and sensors.



About TDK-Lambda Corporation

TDK-Lambda Corporation, a group company of TDK Corporation, is a leading global power supply company providing highly reliable power supplies for industrial equipment worldwide. TDK-Lambda Corporation meets the various needs of customers with our entire range of activities, from research and development through to manufacturing, sales, and service with bases in five key areas, covering Japan, Europe, America, China, and Asia.

For more details, please pay a visit to http://www.tdk-lambda.com/.



Contacts for regional media

Region Contact  Phone Mail

Americas Tom Tillman

TDK-Lambda Americas

(619) 575 4400

tom.tillman@us.tdk-lambda.com

More from Electrical Equipment & Systems