BI-TORQ® Valve Automation Launches a Fusible Link Valve Product Configurator on its Website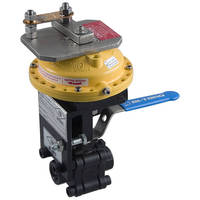 The product configurator allows model numbers to be sorted and searched by different criteria including valve size, end connections, and fusible link temperatures. Registered users will have access to individualized sales drawings and the ability to download 2D line drawings or 3D models in various formats.



"Providing world-class technology like the configurator fits our company philosophy of making our customers' jobs easier," said Dave Marut, BI-TORQ® Valve Automation CEO. "This is a terrific productivity tool for plant designers and valve specifiers."



Fusible link valves, also known as automatic thermal shutoff valves, are used in variety of applications including, but not limited to, diesel generators, paint or solvent lines, fuel systems, oxygen lines, chemical storage, and fire suppression. When used in conjunction with an API 607 fire safe valve, the assembly shuts down a tank or pipeline section to keep dangerous or flammable material contained.



Now in its 20th year, BI-TORQ® Valve Automation, started with a single line of pneumatic rack and pinion actuators. The company has grown tremendously since then and now offers a full line of automated ball and butterfly valve packages, actuators and valves for retrofits, and a suite of safety products including fire safe fusible link assemblies, spring return handles, and fusible plugs. BI-TORQ® Valve Automation's parent company, AVK Carbo-Bond, is a family-owned business specializing in valve mounting kits, stem extensions, lock-out kits, and customized solutions such as butterfly valve tee linkages and tandem mounting kits.





Related