BI Technologies Develops Precision Potentiometers for Heavy Sideload Applications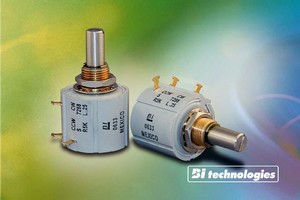 FULLERTON, CA (January 23, 2007) - Providing design engineers with an ideal mechanical set-up for applications involving feedback positioning, TT electronics BI Technologies Electronic Components Division has enhanced four of its precision potentiometers. Designated the model 7288, 7388, 7488 and 8148 devices, the potentiometers are capable of up to one pound (16oz.) of sideload, and feature industry standard specifications that have been designed-in worldwide.

According to Barbara Wiesinger, director of product development for BI Technologies Electronic Components Division, the front bushing of the potentiometers has been upgraded with superior bearing materials and the rear bearing was redesigned to provide for additional internal stability. "Not only do these potentiometers meet or exceed the rotational life of the standard products, but they do so while under the heavy side load," said Wiesinger. "The improved potentiometers are ideal for position feedback and closed loop systems where a mounting configuration that offers full support to the front bushing of the potentiometer is not available."

According to Wiesinger, the enhanced potentiometers are modeled after BI Technologies' proven industry standard potentiometers: the model 7288 device is based on BI's 7286 10-turn wirewound potentiometer; the model 7388 is based on BI's 7386 3-turn wirewound potentiometer; the model 7488 is based on BI's 7486 5-turn wirewound potentiometer; and the 8148 device is modeled after BI's 8146 10-turn hybrid potentiometer. All of the precision devices feature industry standard specifications, including 7/8" diameter, 1/4" shaft and 3/8" bushing.

BI Technologies will produce devices outside these specifications to meet customer requirements. Special shaft configurations and additional wire harnesses are also available.

Pricing for the precision potentiometers ranges from $5 to $10 depending on quantity. Lead times are from stock to 6 weeks.

For more information about BI Technologies' panel potentiometer products, contact BI Technologies at 714-447-2518, by fax at 714-388-0046; by mail at 4200 Bonita Place, Fullerton, CA 92835; or visit: http://www.bitechnologies.com/products/precision_pot.htm.

BI Technologies has been an innovator and leader in electronic components for more than 50 years. The company is a global manufacturer of trimming and precision potentiometers, position sensors, turns-counting dials, chip resistor arrays, resistor networks, integrated passive networks, transformers, inductors, hybrid microelectronics and custom integration products for communication, computer, automotive and industrial applications.

BI Technologies serves a global customer base with manufacturing locations in the United States, Mexico, Scotland, Japan, China and Malaysia.

TT Electronics plc is a global electronics company manufacturing a broad range of advanced electronic components, assemblies and sensor modules for the automotive, industrial, telecommunication, computer and aerospace markets.

More from Mechanical Power Transmission