Bi-Level Edgecard Connector suits heavy-duty applications.
Press Release Summary: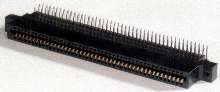 Made of high-density dielectric material, bi-level series right angle edgecard connectors withstand temperatures from -65 to +150°C. They feature primary and secondary engagement contact areas with secondary area recessed in card slot. Connectors' 0.050 in. contact centerline spacing results in 4 rows at 0.100 in. spacing. Connectors components accommodate PCB thickness of 0.062 in. and are available with 4-90 contact positions.
---
Original Press Release:

Sullins Electronics Develops Bi-Level Edgecard Connector For Heavy-Duty Applications


San Marcos, CA, September 15, 2003...Announced today by Sullins Electronics, a world leader in the design and manufacture of connectors and interconnect systems, is the availability of the company's proprietary bi-level series of right angle edgecard connectors. Engineered for heavy-duty applications, the series uniquely provides double the contact points in half the space, while withstanding continual 150°C temperature. Joining Sullins' extensive offering of edgecards, headers, 2 mm Hard Metric (HM), and CompactPCI(TM) connectors, these first-of-its-kind connectors are made of a high-density dielectric material enabling them to boast a -65°C to +150°C operating temperature range. They also notably feature both primary and secondary engagement contact areas, with the secondary area recessed in the card slot. Moreover, the bi-level connectors' 0.050" (1.27 mm) contact centerline spacing results in four rows at 0.100" (2.54 mm) spacing.

Facilitating horizontal board-to-board mounting, these right angle edgecard connectors are the singular solution to high pin count, high temperature applications where space conservation is critical. They therefor are strongly recommended for use in environmental and bum-in testing of semiconductors along with a wide array of industrial, consumer, and commercial usage. Among the areas of demand for the series are for employment on boards used in communication, medical equipment and instrumentation, and automotive R&D.

Sullins' newest UL/CUL Approved series offers superior design flexibility as it is backwards compatible with legacy lower-density boards, and forward compatible with boards now utilized in high-density test environments. Components accommodate PCB thickness of 0.062", and are available with from 4 to 90 contact positions. Connectors also deliver a low 5-ounce insertion force and low 1-ounce withdrawal force per contact pair. Boasting selective gold plating, they are provided standard with beryllium copper contacts to insure contact integrity and reliability. Additional features include an insulation resistance of 1,000 Megohms minimum at 125 VDC, and a current rating of 3A. Devices are engineered for conventional reflow soldering to optimize manufacturers' throughput and speed products' time-to-market. Optional keying, and customization is available.

Typical pricing for the series ranges from $1.50 to $ 1.69 per contact pair in production quantities. Delivery is 3-4 weeks ARO.

More from Electrical Equipment & Systems