BGA Sockets are developed for 0.8 mm pitch SDRAM.
Press Release Summary: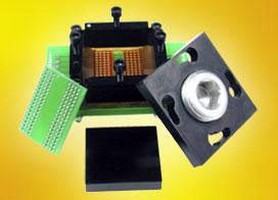 Operating at bandwidths up to 8 GHz with less than 1 dB of insertion loss, SG-BGA-6252 is designed for 9 x 11 mm, 0.8 mm pitch, 60 pin BGA package while SG-BGA-6253 is designed for 9 x 13 mm, 0.8 mm pitch, 84 pin BGA package. BGA sockets dissipate up to several watts without extra heat sinking and can dissipate greater amount with custom heat sink. They feature contact resistance of 25 mW per contact, temperature range of -35 to +100°C, and pin inductance of 0.28 nH.
---
Original Press Release:

High Performance Sockets for 0.8mm Pitch SDRAM



Socket your SDRAM without significant performance loss and with minimal increase in PC Board footprint

BURNSVILLE, MN - May, 2008 - Ironwood Electronics has recently introduced the new high performance BGA socket for 0.8mm pitch SDRAM. The SG-BGA-6252 socket is designed for a 9mmx11mm, 0.8mm pitch 60 pin BGA package and SG-BGA-6253 socket is designed for a 9mmx13mm, 0.8mm pitch 84 pin BGA package. The sockets operate at bandwidths up to 8 GHz with less than 1dB of insertion loss. The sockets are designed to dissipate up to several watts without extra heat sinking and can dissipate more watts with custom heat sink. The contact resistance is typically 25 milliohms per contact. The sockets are ZIF sockets and provide excellent signal integrity.

The SG-BGA-6252 and SG-BGA-6253 are constructed with high performance and low inductance elastomer. The temperature range is -35 C to +100 C. The pin inductance is 0.28 nH. The SG-BGA-6252 socket accommodates IC packages such as the 60 pin Samsung DDR2 SDRAM (K4T51043QE) FBGA package. The SG-BGA-6253 socket accommodates IC packages such as the 84 pin Samsung DDR2 SDRAM (K4T51043QE) FBGA package. The sockets are mechanically mounted to target PCB.

Pricing for the SG-BGA-6252 and SG-BGA-6253 is $348/each at qty 1 with reduced pricing available depending on quantity required.

Ranjit Patil
11351 Rupp Dr.
Suite 400
Burnsville, MN 55337
Tel: 952-229-8200 or (800) 404 - 0204
Fax: 952-229-8201
info@ironwoodelectronics.com
ironwoodelectronics.com

More from Architectural & Civil Engineering Products