BGA Socket features 0.028 pF capacitance to ground.
Press Release Summary: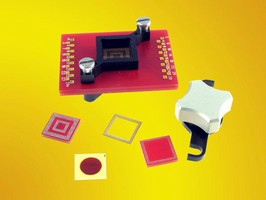 Designed for processor with POP memory socketed on top, Model SG-BGA-7116 operates at bandwidths up to 40 GHz with less than 1 dB of insertion loss. It features typical contact resistance of 100 mW per pin, 5 A per pin current capacity, -40 to +100°C temperature range, and self and mutual inductance of 0.11 and 0.028 nH, respectively. Unit is constructed with high performance and low inductance elastomer on both socketing levels with gold plated, barbed pad.
---
Original Press Release:

Stacked GHz Bandwidth Socket for Processor and POP



Ironwood Electronics has recently introduced the new high performance socket for processor with a POP memory socketed on top. The SG-BGA-7116 sockets is made for socketing a 0.4mm BGA IC, 12X12mm Body with 28X28 ball array to the target PCB and then in addition socket a POP memory on top with 12x12mm, 0.5mm pitch, 23x23 array) and Samsung 12x12mm 168 ball fine pitch ball grid array package.

The contactors are designed for a 12mm package size, operates at bandwidths up to 40 GHz with less than 1dB of insertion loss. The socket is designed to dissipate up to several watts without extra heat sinking and can handle more with custom heat sink. The contact resistance is typically 100 milliohms per pin. Installation is quick and easy with first attaching the socket to the PCB, insert first IC in Stack, insert second contactor and IC, and tightening compression mechanism.

The SG-BGA-7116 is constructed with high performance and low inductance elastomer on both socketing levels with a gold plated, barbed pad connecting to the IC Pad. The temperature range is -40 C to +100 C. The pin self inductance is 0.11 nH and mutual inductance of 0.028 nH. Capacitance to ground is 0.028 pF. Current capacity is 5 amps per pin.

Pricing for the SG-BGA-7116 is $2549 at qty 1 with reduced pricing available depending on quantity required.

Please find further information at:
http://www.ironwoodelectronics.com/press/stacked_ghz_socket.html.

If you have any questions, please call or email.
Mike Fedde
mikef@ironwoodelectronics.com
Ironwood Electronics
1-800-404-0204

www.ironwoodelectronics.com

More from Architectural & Civil Engineering Products