Beverage Holder withstands harsh marine environments.
Press Release Summary: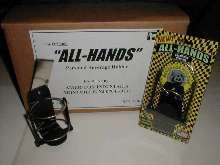 Made with non-rusting materials, holder allows fishermen to enjoy beverage of choice during fishing, even while tending to rod and reel. Hands-free design clips onto clothing and features stainless steel rings that hold cans and bottles in place. Folding action allows lightweight item to fit into tackle-box, and snap action holds product closed when not in use.
---
Original Press Release:

Innovative New Concept In 'Beverage Holding' Takes The Atlantic Charter Fishing Scene By Suprise!


"All-Hands" is now here on deck!

No...it isn't a mousetrap! Although it could easily be mistaken for one! Finally someone has discovered of a way to allow us fishermen to completely enjoy our favorite beverage during fishing, even while tending to our rod and reel! No more searching for somewhere to set that can or beverage bottle when "Mr. Fish" yanks on your line! Simply slip your beverage container into the stainless steel containment rings conveniently located at your side. It is as easy as using a holster! You won't realize exactly how terrific this new product really is until you actually clip one on! It's a super-dandy lightweight item that also fits neatly into your tackle-box due to it's unique folding action. When your done with that great day of fishing, simply fold it closed and place it in one of the drawers in your tackle-box. It even utilizes a patented "snap" action that holds it closed when not in use.

As one can see by looking at "All-Hands" opened and ready for duty, it is of a handsome design and is made with non-rusting materials. Even after we subjected this product to a continual harsh marine environment for several weeks, it came up a winner! There wasn't a speck of rust to be found on it! We even put one in the back pocket of our jeans and sat on it to see what happened. Again...due to the extrememly strong space age plastics and carefully planned design, it emerged unscathed!

Well Folks...We now have a new gadget that we can rely on to make our fishing trips more enjoyable! To those interested in purchasing one to compliment their fishing apparel, they can simply order direct from the manufacturer by U.S. Postal mail, or e-mail. Write to: AMER-CON INDUSTRIES, 1 Schneider Lane, Montville, NJ 07045-9737 or E-mail them at: AmerConInd@aol.com

"Now...Could somebody please pass me a soda from that cooler?"

More from Software