Beta Max Provides Elevator Solution for Tampa Electric - Final Phase Completed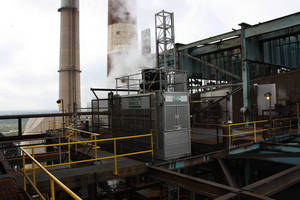 Final Phase Completed in Temporary- to-Permanent Industrial Elevator Solution

Melbourne, FL - When the Tampa Electric Company (TECO) in Tampa, FL needed a solution for transporting personnel and materials in their power plant; they choose Beta Max Hoist to provide a temporary rack & pinion hoist as well as a permanent industrial elevator installation.

Beta Max engineered the Max Climber 6000P to be installed temporarily on an incredibly short lead time in order to accommodate a plant shut down and then converted the temporary hoist installation to a permanent industrial elevator.

The project involved different phases to accommodate TECO's schedule and provide a professional installation:

Remove old, non-operational elevator

Install temporary hoist

Permanently install industrial elevator

Out With the Old

The first of many challenges was removing an old elevator system that was completely inoperable for at least four months. The Beta Max team had the dubious task of finding parts for the broken, outmoded elevator in order to get it running enough to dismantle it and remove it from the facility.

Another challenge associated with the removal process was that TECO had built a maze of mechanical piping and structural beams around the old elevator making the jobsite difficult to access.

According to Shanon Beekman, Beta Max Electrical Design & Installation Manager, "We developed rigging configurations that would safely lift and handle the weight of the unit and components. Then we created a dolly system to move the unit under piping to a location where it could be removed with a forklift that could handle the unusual height restrictions. Despite all of this, we were able to remove the old unit in record time-only 9 days."

Once the old machinery was removed the site could be prepped for the temporary hoist.

In with the Temporary
The Max Climber 6000P temporarily installed at Tampa Electric was a rack & pinion personnel elevator capable of carrying 6000 lbs. or 34 people. For this installation, the 6000P reaches 190 feet and travels at a speed of 150 feet per minute, although its maximum reach height is 1000 feet and its maximum lift speed is 300 feet per minute. This system has a base footprint of 173" x 102" with its internal cabin dimensions being 157" x 59".

The new temporary hoist was carefully transported piece by piece and maneuvered into place using the rigging from the removal of the old elevator. This resulted in a shorter lead time allowing for the removal and installation process to be completed in less than a month.

The Max Climber 6000P created greater accessibility with the addition of a brand new landing location. The new lifting solution also provided an easier way to load the car through the side at the base level. This would allow for moving man and materials in a faster, more efficient manner.

Once the temporary hoist was in place, TECO successfully conducted their shut down.

Permanent Elevator Install
The conversion from temporary to permanent unit was seamless as the permanent hoist utilized the components already in place. The permanent elevator takes advantage of the mast, concrete pad and base of the Max Climber 6000P, but showcases a variety of additional features.

"The installation of the permanent hoist really shows off what Beta Max has to offer. We replaced all landing gates, hoist way enclosures, and installed a permanent industrial elevator that meets all A17.1 and building code standards. This really showcased our attention to detail," said Beekman.

The permanent rack & pinion personnel elevator installed is capable of carrying 6000 lbs. or 34 people, reach190 feet and travel at a speed of 150 feet per minute. This system has a base footprint of 173" x 102" with its internal cabin dimensions being 157" x 59".

From beginning to end, the TECO project showcased Beta Max's ability to be flexible, strength in engineering a custom solution, and the capability to provide a smooth, phased installation of an elevator that will be used for years to come.

About Beta Max

Beta Max Inc., of Melbourne, Florida, has been providing construction hoist and permanent elevator solutions to the construction and industrial markets for over 25 years. With the introduction of the first high-speed, long lift wire rope hoist system in 1985, the current portable hoist line now has 7 models with lifting capacities ranging from 200-2000 lbs. Beta Max's rack & pinion material/passenger systems carry up to 6000 lbs. at speeds of up to 300 feet per minute. For more information about our products, contact Beta Max Inc., P.O. Box 2750, Melbourne, FL 32902-2750. Call: 800-233-5112 or fax: 321-768-9517. Visit Beta Max, Inc. online at www.BetaMaxHoist.com.


More from Thermal & Heating Equipment