Beta Max Maxial Hoist Makes Labor Easier, Saves Time and Money for Companies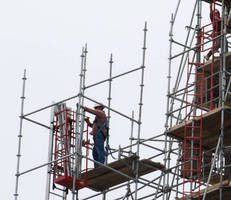 Palm Bay, Fla. - Beta Max Hoist, an industry leader in the manufacture of high speed material hoist systems for confined spaces, is once again leading the way and satisfying customers in major industries with its Beta Max Maxial Scaffold Hoist.

In 1985, Beta Max Hoist, Inc. was established and introduced the first high-speed, long-lift, wire rope material hoist systems as an alternative solution for general construction material lifting. Headquartered in Melbourne, Fla., the Company has been meeting increased demands for safe and affordable material and personnel hoists with payloads ranging from 200 to 6,000 pounds. The three product divisions include portable material hoists line, scaffold erection and dismantle Maxial track hoist and our full line of Max Climber personnel and material rack and pinion lifts. Beta Max continues to expand, update and create innovative products that provide customers with equipment and lifting solutions that work safely and are cost effective.

In 1990 Beta Max introduced the Maxial Scaffolding Hoist, designed primarily to facilitate scaffold erection and dismantle on commercial construction sites and industrial plant boiler maintenance projects. This system replaces the old daisy chain (man-line) of getting scaffolding and equipment from the ground to the upper decks.

"The Maxial Scaffold Hoist can better allocate your labor, reduce worker fatigue, increase number of completed projects per year and makes your labor more efficient for your company," said Ken Barrett, Sales and Marketing for Beta Max Hoist.

Brian Hill, formally a Division Manager at American Construction Hoist, says, "Our company made great advances in profitability, and our work load utilizing this machine. The Maxial Track Hoist increased our labor revenues by being able to generate more work for our employees and our job completion time, thus enabling us to have larger profit margins. Soon we needed more track and another unit."

Hill went on to say he encountered many other companies utilizing this machine. Many had multiple units and countless track sections. "We would use two, four, or six machines in a boiler. The ground crew would generally consist of five laborers and a supervisor. The hoist crew would generally consist of two laborers, and two hoist operators. This would feed the crew above constructing the scaffold, generally four to 12 men including a supervisor. Some of the boilers we constructed were well over 200 feet high, and bridges over 400' tall. The Maxial Track Hoist attaches right to the scaffolding, as you go up one section at a time. Just add more tracks, extend the cable, and you're back to work."

"I have seen many different hoists and pulleys used to eliminate the man line (or daisy chain), but none meet the safety aspect or simplicity of the Maxial Track system. You don't have to fuel it or have wide open area like a forklift; it uses either 120V or 240V electricity that is readily accessible on most job sites; and it will not wear out, like a man pulling a rope or handing pieces of scaffold level by level.

"I have personally used these systems on bridge work, commercial construction, industrial construction with frame scaffold, system scaffold, or tube and clamp type scaffold. You can use any math formula you wish, but dollar for dollar you will not hire anyone who can perform this amount of work; without the breaks, the fatigue, or the wear and tear as the Maxial Track hoist. Using two machines doubles your production instantly. The Maxial Track Hoist packs easily into a small covered trailer, and travels with your crew or equipment. The units are low maintenance, easy to care for, last for years, and it is very simple to operate using a pendant control. There is simply no other way to go."

The Maxial Hoist is just one of the excellent products offered by Beta Max Hoist, which has been turning out quality goods that offer alternate methods of lifting general building materials since 1985. Quality and safety is the No. 1 priority at Beta Max Hoist, and its longtime customer relationships, many dating back 20 years or more, speak to their reliability and excellent customer service.

Beta Max Hoist, headquartered in Palm Bay, Fla., employee expert mechanics, technicians, and a research and development team to make sure that all of their customers' needs are met. They are committed to providing superior quality products with exceptional service and technical support. It is the policy of the company to work and consult with our customers to create safe and reliable hoist systems that will increase productivity and worker safety. If you are able to win more bids and finish your projects faster your company is going to naturally increase the number completed projects per year. Beta Max products are a key component to making this happen.

"We don't just sell you the hoist, we help you with a complete hoisting solution," Barrett said.

For more information on Beta Max Hoist, please visit:
www.betamaxhoist.com, or Call: 1-800-644-6478.