Beswick RPV Rapid Pressurization Valve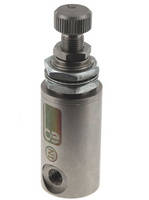 This miniature valve is not like other valves you've encountered in your career. A typical application for the valve, outlined below, will help you understand its operation and uniqueness. Put your thinking cap on and envision how the Beswick rapid pressurization valve could solve a problem in your product.
Let's assume you have a pneumatic actuator, perhaps a clamping device like a chuck. Ideally you want the jaws of the chuck to move slowly until the jaws touch the surface of the workpiece. That can be accomplished with a simple restrictor. But, as soon as the jaws contact the workpiece, you'd like to trigger a rapid increase in the supply pressure to provide maximum clamping force. A simple restrictor cannot do that. The Beswick RPV valve can as shown in these graphs.
The Beswick RPV is most often used to control a pneumatic actuator such as a chuck, press, or gripper. An internal valve component in the RPV restricts the initial movement of the actuator to a user defined speed. When the actuator contacts the workpiece the internal valve component senses back pressure and opens up. There are two user adjustable settings provided in the RPV which allow the user to limit the impact a workpiece experiences when it is clamped down upon without sacrificing the pressurization speed of an open, free flowing connection.
You might not need a sophisticated valve like the RPV for your immediate application. No worries. We provide a wide selection of miniature valves.
With so many valve designs, it is likely we have a solution for you. Give us a call at 603-433-1188, e-mail the engineering team at [email protected], or converse with one of our engineers via our website www.beswick.com. Our team of degreed Application Engineers is ready to assist you throughout the specification process.
Take advantage of our wisdom to solve your difficult fluid power application today.
Contact:
Michael J. Donati
Beswick Engineering Co., Inc.
"Excellence In Miniature since 1964" 
284 Ocean Road
Greenland, NH 03840-2442 USA
Phone: 603-433-1188 Fax: 603-433-3313 
[email protected] www.beswick.com