Best Buy Launches Eurocom's Nightsky RX15 Lineup of High Performance Superlaptops with OLED Displays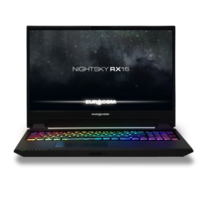 Best Buy is launching Eurocom's line of Nightsky superlaptops that is now available to all Canadian customers.
Best Buy and Eurocom Corporation are proud to announce the launch of its Eurocom Nightsky lineup of Superlaptops.
As expressed by Eurocom's CEO, Mark Bialic, "Eurocom strongly supports the Best Buy strategy by offering our line of high-performance, user-upgradeable superlaptops to its customers. This allows individuals, corporate and government customers access to a variety of high-performance laptop models for all kinds of applications, including: super gaming, software development, consulting, architecture and engineering. We also offer GPU and CPU upgradeable models, up to dual RTX 2080s, i9 9900K, 128GB of RAM and up to 22TB of storage mobile supercomputers. The EUROCOM Nightsky RX15 and the Nightsky RX17 are lightweight notebooks that simply do not compromise on power!"
The Nightsky RX15 is a 15.6-inch system with a stunning Retina-type OLED panel from Samsung. The Nightsky RX15 is designed for a variety of users ranging from architects, designers of all kinds, graphics, audio and video professionals, up to gamers who require high-performance, on-the-go computing at under 2.5 kilograms. The laptop comes standard with an NVIDIA GeForce RTX 2070 8GB GDDR6 GPU and an Intel Core i7 9750H (6C/12C) CPU. An optional, special edition of the EUROCOM Nightsky RX15 is available with an Intel i9-9980HK (8C/16T).  This thin and lightweight platform weighs under 2.5 kilograms (5.5 lbs), with dimensions of (WxDxH) 359mmx258mmx29.9mm or 14.36in x32in x1.12in. The EUROCOM Nightsky RX15 can tackle the most demanding workloads, applications and/or games with relative ease, making it a perfect companion for Eurocom's over-achieving, yet uncompromising users who desire a system with a stunning OLED UHD display and immense power on-the-go, all housed within a sleek and sophisticated laptop form factor.
The Nightsky RX17 has a FHD 17.3 inch display can be configured to deliver maximum power and exceptional graphics with the Intel i9 9980HK (8-core/16-threads) CPU and the NVIDIA RTX 2070 GPU, both on-board. Only weighing 2.9 kg/3.4 lbs, the RX17 is lightweight and compact, making this system easy to carry around without sacrificing any computing power and performance.  Continuing to set the trend for user-upgradeability, Eurocom has equipped the Nightsky RX17 with upgradeable dual-channel memory slots, supporting up to 64 GB of DDR4 RAM. The RX17 also sports three physical storage drives for up to a total of 12 TB of space available in RAID 0/1 configuration. With its immersive 17.3-inch FHD IPS display (refresh rate of 144Hz in 1920x1080 resolution), along with an abundance of ports and luxury features, the EUROCOM RX17 is a lightweight powerhouse capable of incredible performance.
About Eurocom:
Eurocom is the leading developer of long lifespan, fully upgradable notebooks, as well as, high-performance mobile workstations and servers since 1989. Eurocom prides itself as an Industry leader in providing ground-breaking technology and continues to engineer innovative solutions that inspire individuals and companies to new growth and development. For more information on Eurocom please visit us at www.eurocom.com
More from Electrical Equipment & Systems