Bernard to Showcase MIG and Flux-Cored Welding Products at 2007 FABTECH International/AWS Welding Show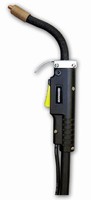 Bernard to Showcase MIG and Flux-Cored Welding Products at 2007
FABTECH International/AWS Welding Show

BEECHER, Ill. July 25, 2007-Continuing its dedication to the welding needs of today's manufacturers, Bernard will showcase its new Dura-Flux(TM) gun and expanded MIG gun Configurator, along with its ever popular Q-Gun(TM) and Centerfire(TM) consumables in booth #4074 at the FABTECH International/AWS Welding Show in Chicago, Ill., November 11 - 14.

New Heavy-Duty Products and Interchangeable Options
Designed to withstand the most abusive self-shielded flux-cored welding environments and still provide exceptional operator comfort, Bernard's new Dura-Flux gun features a heavy-duty non-metallic trigger and a smaller, more maneuverable trigger guard instead of a heat-absorbing metal trigger and bulky heat shield found on competing models. The Dura-Flux features Bernard's renowned Centerfire contact tips as well as interchangeable power pins and trigger leads for compatibility with both Miller and Lincoln power sources.

Bernard's MIG gun Configurator, which allows complete gun customization, from the cable to the contact tip, has been expanded to fit even more applications and environments. The expanded Configurator includes the addition of a steel "monocoil" cable, curved handles and Quik Tip consumables to further increase the range of choices welders have in their MIG welding equipment.

The newly introduced S-Gun(TM) is the result of choosing the heavy-duty steel 'monocoil' cable instead of the lighter and more flexible standard Bernard cable. The expanded Configurator allows welders to fit a Bernard MIG gun to virtually any preference or need by matching a variety of neck, consumables, trigger and direct plug options.

Bernard Q-Gun and Centerfire Consumables
Bernard's time-tested flagship product, the Q-Gun, is designed with a variety of features that provide quick component changeovers to increase overall productivity and arc-on time. Fully customizable, the Q-Gun's multiple handle and trigger options, amperage configurations and simplified consumables, help reduce welding downtime and its associated costs.

Bernard's revolutionary Centerfire series gas diffusers, contact tips and nozzles bring superior performance and reduced downtime to most MIG welding applications. Centerfire series contact tips "Drop-In" the gas diffuser and lock in place by hand tightening the nozzle. These threadless "Drop-In" contact tips do not require tools to change, are quicker to replace after burn back and, when coupled with the appropriate nozzle, stay fixed either flush with the end of the nozzle, at 1/8" stickout, 1/8" recess or 1/4" recess.

For product spec sheets or to learn more about Bernard products, visit bernardwelds.com, call 1-800-946-2281, fax 708-946-6726, email info@bernardwelds.com or write Bernard, 449 West Corning Road, Box 667, Beecher, IL 60401.

Located in Beecher, Ill., Bernard Welding Equipment manufactures premium GMAW (MIG) welding guns, consumables, accessories and manual arc products. For over 50 years Bernard has been an innovator in heavy-duty MIG welding and a proven contributor to improved welding productivity. Bernard Welding Equipment is a subsidiary of Illinois Tool Works Inc. (NYSE: ITW), Glenview, Ill. ITW is a diversified multinational manufacturer of highly engineered components, assemblies and systems.


More from Fluid & Gas Flow Equipment