Bernard and Tregaskiss to Attend FABTECH 2016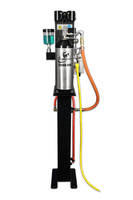 BEECHER, Ill./WINDSOR, Ontario – Bernard and Tregaskiss will attend FABTECH 2016 in Las Vegas, November 16 to 18, where they will share booth N3733  with Miller Electric Mfg. Co. There, the companies will showcase the latest products for improving welding in the fabrication and manufacturing industries. Bernard will feature its semi-automatic MIG guns and consumables, while Tregaskiss will showcase its robotic MIG guns, peripherals and consumables — all designed to improve quality, productivity and cost-savings. Select products will be featured on Miller power sources and robotic welding equipment for static and live demonstrations.



New products to be featured at the show, include:





TOUGH GUN TT3E Reamer – The new reamer from Tregaskiss has been enhanced with digital Ethernet communications to simplify integration into companies' digital controls infrastructure, all at a lower cost. Remote monitoring capabilities allow companies to oversee and troubleshoot the I/O of reamer functioning in real time — without removing the reamer from the weld cell.



TOUGH GUN Reamer Stand – Designed exclusively for Tregaskiss TOUGH GUN TT3 and TOUGH GUN TT3E Reamer robotic nozzle cleaning stations, this durable new stand is customizable in heights ranging from 18 to 45 inches. A simplified design allows for lower pricing, while features such as precision- manufactured, reamer mounting hole pattern specific to the two reamer models eliminates potential issues associated with third-party stands. Quick, accurate installation is easy due to compatibility with both reamers' quick-change base plate.



About Bernard



For more information about Bernard's welding products, visit BernardWelds.com, call 1-855-MIGWELD (1-855-644-9353), fax 1-888-946-6726, email info@bernardwelds.com or write Bernard, 449 West Corning Road, Beecher, IL 60401. Outside North America, call +1-519-737-3000 or fax +1-708-946-6726.      Bernard, located in Beecher, Illinois, manufactures premium semi-automatic GMAW (MIG) and FCAW (flux-cored) welding guns, consumables, accessories and manual arc products. For more than 60 years, Bernard has been an innovator in heavy-duty MIG welding and a contributor to improved welding productivity. Bernard is a division of Miller Electric Mfg. Co., a leading worldwide manufacturer of Miller brand arc welding products headquartered in Appleton, Wisconsin.



About Tregaskiss



For more information on welding products from Tregaskiss, call 1-855-MIGWELD (1-855-644-9353) or fax 1-877-737-2111 (in Canada and USA); write Tregaskiss, 2570 North Talbot Road, Windsor, Ontario, Canada, N0R 1L0; email info@tregaskiss.com or visit Tregaskiss.com. Outside North America, call +1-519-737-3000 or fax +1-519-737-1530.



Tregaskiss is an industry leader in the development and manufacture of robotic MIG welding guns, peripherals and consumables, and offers its products worldwide. Its product lines include TOUGH GUN™ Robotic MIG Guns and Peripherals, TOUGH LOCK™ Consumables, QUICK LOAD™ Liners, the QUICK LOAD Liner AutoLength™ System and TOUGH GARD™ Anti-Spatter Products. Tregaskiss is a division of ITW Canada Inc., a wholly owned subsidiary of Illinois Tool Works Inc. (ITW), Glenview, Illinois, USA. ITW is a diversified multinational manufacturer of highly engineered components, assemblies and systems.

More from Sensors, Monitors & Transducers