Berk-Tek, Cree Lighting and Transition Networks Join Forces to Offer The Industry's First Complete Solution for The Emerging Utility LAN (uLAN)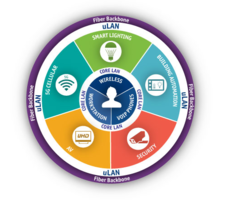 New Holland, PA –June 10, 2019 – Berk-Tek, a Nexans Company and leading manufacturer of network infrastructure solutions, has joined forces with Cree Lighting and Transition Networks to provide a complete end-to-end solution for the smart building's utility LAN (uLAN).
Berk-Tek defines the uLAN as an emerging network made up of non-traditional ethernet-enabled utility devices that are now connecting to the network. While the traditional Core LAN – comprised of the PC, VoIP phone and WiFi – is not expected to undergo significant change through 2022, the emerging uLAN is expected to grow significantly over that time. The uLAN and the network infrastructure supporting it will be largely responsible for connecting and powering the billions of new devices needed to make buildings smart.
Berk-Tek and Cree Lighting collaborated in 2018 to provide PoE-enabled smart lighting solutions. The addition of Transition Networks' smart managed switches rounds out the team's complete solution. "Now we can collectively offer what I like to say is the smart building's nervous system: Cree Lighting's SmartCast Intelligence Platform™ is the brain, Transition Network's PoE switch technology is the muscle, and Berk-Tek Leviton Technologies' cable and connectivity solutions are the nerves," says Jim Frey, Berk-Tek's Director of Marketing.
Frey adds, "Everyone has an opinion on the potential advancement of smart lighting. I say there is just too much customer value for this technology not to take off." In fact, Frey says smart lighting is not really about the lights at all. It's about establishing a sensor network throughout your facility, giving you a bird's-eye view that can be integrated into BACnet systems like HVAC or Fire Detection, and other IP applications like security cameras, access control, and AV.  All this integration leads to actionable analytics and coordinated responses when defined events occur. This is on top of the many documented benefits that come with LED lighting technology."
"Cree Lighting's SmartCast® Intelligence Platform™ was purposely built with an open API to allow for interoperability with third-party networks and technologies," said Drew Kolb, Director, IoT Business Development at Cree Lighting. "We're partnering with Berk-Tek and Transition Networks to simplify the process of designing and implementing a smart building with virtually limitless applications to improve business profitability and streamline facility management."
Scott Otis, President of Transition Networks said; "We are very excited to join this initiative and always endeavor to deliver reliable, intelligent solutions to make our customers' lives easier. Our expanding PoE++ switch portfolio built to the latest IEEE 802.3bt standard, combined with the technology and market reach of Berk-Tek and Cree Lighting, results in a comprehensive smart solution which streamlines the design and ordering process for our customers."
The message "Realize the Future: Making the Smart Building Simple" will soon be broadcast on the airwaves and on the road. Berk-Tek will host a national webinar on June 13, and the team will roll out a multi-city roadshow later this month. There are also resource materials available for download at www.berktek.us/realizethefuture.
About Berk-Tek, A Nexans Company
Berk-Tek is a premier manufacturer of more than 100 different network infrastructure solutions. For more than 50 years, Berk-Tek has led the industry in the development of high-performance and enhanced fiber optic and copper cables designed to transport high-speed data, voice and power transmissions. Berk-Tek's world-class research and development teams are dedicated to developing innovative structured cabling solutions that are critically important to managing the demands of today's emerging technologies. Berk-Tek has manufacturing facilities in New Holland, PA and Fuquay-Varina, NC. For more information, visit www.berktek.com.
About Nexans
Nexans brings energy to life through an extensive range of cables and cabling solutions that deliver increased performance for our customers worldwide. Nexans' teams are committed to a partnership approach that supports customers in four main business areas: Power transmission and distribution (submarine and land), Energy resources (Oil & Gas, Mining and Renewables), Transportation (Road, Rail, Air, Sea) and Building (Commercial, Residential and Data Centers). Nexans' strategy is founded on continuous innovation in products, solutions and services, employee development, customer training and the introduction of safe, low-environmental-impact industrial processes.
In 2013, Nexans became the first cable player to create a Foundation to introduce sustained initiatives for access to energy for disadvantaged communities worldwide.
Nexans is an active member of Europacable, the European Association of Wire & Cable Manufacturers, and a signatory of the Europacable Industry Charter. The Charter expresses its members' commitment to the principles and objectives of developing ethical, sustainable and high-quality cables.
Nexans, acting for the energy transition, has an industrial presence in 40 countries, commercial activities worldwide, is employing close to 26,000 people and generating sales in 2016 of 5.8 billion euros. Nexans is listed on Euronext Paris, compartment A. For more information, please visit www.nexans.com.
Contact
Susan Larson
717-351-9320
More from Controls & Controllers