Bent Axis Motor features 0 degree capability.
Press Release Summary: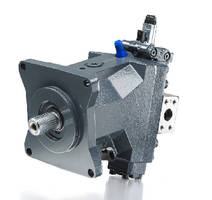 Available in additional frame size, Model H1B210 features 32° bent axis technology and 0° capability, offering smooth, on-the-go shifting and support for software-based anti-slip control. Motor has rated speed of 3,850 rpm at 20% motor displacement, and max working pressure of 450 bar. Available with DIN and SAE flange, Model H1B210 is intended for applications with high installed power, such as forwarders, harvesters, combines, crawlers, and shredders.
---
Original Press Release:

Danfoss Enhances H1B Bent Axis Motor Product Family with Release of H1B210 Frame



New frame size provides greater overall efficiency than competitive products; features compact design, higher rotating and acceleration speeds than H1B250, and integrated controls for better performance and reliability.



Danfoss Power Solutions has announced the release of H1B210, a new frame size that enhances the successful H1B bent axis motor family (H1B060 – H1B250). The new frame features a notably compact design, higher rotating and acceleration speeds than H1B250, and integrated controls for better performance and reliability, while providing greater overall efficiency than competitive products.



Motors in the Danfoss H1B product line feature proven 32-degree bent axis technology and zero-degree capability, which allows for smooth, on-the-go shifting; flexibility to meet many vehicle operating conditions; and the ability for OEMs to offer additional features such as anti-slip functionality and torque control to optimize the use of available power.



The H1B210 frame offers the same full option package as other H1B motors in the family but is intended for applications with high installed power, such as forwarders, harvesters, combines, crawlers and shredders. The new frame size also enables customers to utilize a cost-efficient drop-box transmission for high corner-power applications, including wheel loaders, dumpers and telehandlers.



"As a global supplier for mobile hydraulics, Danfoss Power Solutions is pleased to enhance the H1B bent axis motor family with the H1B210," said Hans-Hermann Blöcker, product application engineer of high-power closed-circuit products at Danfoss Power Solutions. "The H1B210 demonstrates higher overall efficiency when compared to competitive products on the market and offers seamless serviceability given the integrated design of the H1B family. Our customers have already expressed great interest in H1B210 as they continuously work to develop highly efficient and robust machines."



The H1B210 is available with DIN and SAE flange, and has a rated high-speed capability of 3,850 rpm at 20 percent motor displacement. The maximum working pressure is 450 bar. The new frame also offers competitive shaft speeds, an integrated loop flushing device and an optional integrated speed sensor.



Benefits of H1B210

The H1B210 frame provides a variety of benefits for OEMs and distributors in the mobile hydraulics industry, including:



• Shared parts within the H1B product family and the external accessibility of the shaft seal allow for superior serviceability, while a common control interface for all H1B frame sizes simplifies motor conversion.



• Zero-degree capability enables customers to develop software-based anti-slip control for multi-motor transmissions, resulting in reduced ground damage, increased traction control and improved machine controllability for the operator.



• Large ratio (zero to 32 degrees) leads to higher overall efficiency, and improved efficiency reduces fuel consumption and supports emission legislations such as Tier 4 Final/Stage IV.



• Two-edge spool design of the 3/2-way valve spool also increases efficiency due to low volumetric losses and reduces hysteresis for better controllability.



• Strong synch joint is able to withstand high accelerations and decelerations, and one-piece housing means fewer potential leak paths.



For more information about H1B210, visit powersolutions.danfoss.com or contact a Danfoss distributor.



Around the world, mobile equipment manufacturers rely on Danfoss expertise for the most innovative work, propel, control and steering solutions. Working in partnership with customers, Danfoss provides high-value, high-performance components for a broad range of mobile equipment applications. Danfoss designs, manufactures and sells a complete range of engineered hydraulic and electronic components including hydrostatic transmissions, mobile electronics, orbital motors, steering components and PVG proportional valves.



For technical information:

Allee Wengert    Danfoss Power Solutions   Phone: +1 515-956-5271

Ames, Iowa, USA    awengert@danfoss.com



For media information and photos:



Americas & Europe:

Allee Wengert    Danfoss Power Solutions   Phone: +1 515-956-5271

Ames, Iowa, USA    awengert@danfoss.com



Asia-Pacific:

Kentaro Ide   Danfoss Power Solutions   Phone: +81 6-6395-6066

Osaka, Japan    kide@daikin-sauer-danfoss.com



China:

Kelly Xu    Danfoss Power Solutions   Phone: +86 21 3418 5336

Shanghai, China    kxu@danfoss.com

Related