Bendix® Premium Line Delivers Innovative, Comprehensive, and Platform-Specific Automotive Brake Coverage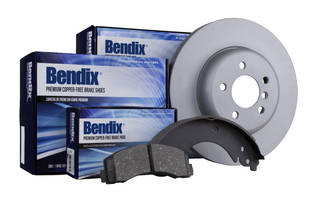 Product line leads industry in quality of construction, ease of installation
Long Grove, Ill. – MAT Holdings, Inc. announces the launch of the Bendix® Brakes brand Premium product line, which offers comprehensive coverage for late model vehicles. The Bendix Premium line includes automotive brake pads, discs, shoes and complete brake shoe kits, and leads the industry in quality and ease of installation.
Bendix Premium line of friction products features copper-free formulations, putting it at the leading edge of environmentally-conscious brake design. By 2025, all brake manufacturers selling in the United States must eliminate copper from their friction formulations in order to meet regulations in California and Washington, enacted due to concerns over the effect of copper from brake friction materials on the environment.
Bendix Premium brake pads feature four-layer noise eliminating shims, and have been independently tested and proven to outperform competition. They are available in ceramic and semi-metallic formulations, and include hardware when applicable.
Unlike competing products, Bendix Premium rotors are platform-specific, ensuring the best possible operation for each vehicle platform. Additionally, the rotors are sold in pairs within responsible weight limits which streamlines installation. They are manufactured in Europe to the highest standards of quality, featuring precise, OEM-driven machining specs, OE-specified design and vane configuration, and a premium coating to protect from corrosion.
Bendix Premium complete brake shoe kits are also an innovative addition to the market. These preassembled sets of brake shoes, with all hardware included, save mounting time and greatly simplify stocking and installation. The brake shoes are constructed with OE Grade steel and advanced adhesives for maximum strength and durability.
With this Premium product line, Bendix is leading the industry in creating an innovative solution for the installer and safer, more reliable brakes for the driver.
For more information about the Bendix Premium product line, visit http://www.bendix-brakes.com/bendix_premium.php.
About Bendix®
The Bendix® Premium, Bendix® Fleet Metlok®, and Stop by Bendix™ product lines lead the automotive aftermarket industry in innovative, top-quality brake system components. For nearly a century, Bendix has been one of the top names for brake technology, with major product contributions to the automotive, aviation, aerospace and transportation industries. Combining the global engineering and production expertise of MAT Holdings and its exceptional reputation in brake technology, the Bendix brand remains at the leading edge of the automotive aftermarket with the introduction of new and enhanced brake products.
To find out more about Bendix, visit http://www.bendix-brakes.com.
About MAT Holdings, Inc.
MAT Holdings, Inc. - MAT Automotive Braking Group is a leading global manufacturer of automotive braking components supplying vehicle manufacturers, motor racing customers and leading brands in the aftermarket. Since 1926, we have leveraged years of international brake system engineering expertise, technology, and state of the art manufacturing facilities to produce premium brake products for the marketplace. We are committed to driving continuous innovation and produce to the highest quality standards. We are proud to continue the Bendix legacy.
To find out more about MAT Holdings, Inc., visit http://www.mat-holdings.com/
More from Electronic Components & Devices