Bendable Panel Product suits green building construction.
Press Release Summary: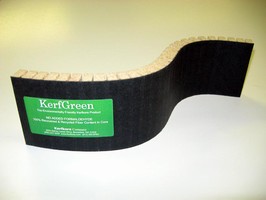 KerfGreen substrate material qualifies for Leadership in Energy and Environmental Design (LEED) credit MR 4.1, MR 4.2, and EQ 4.4. Available as 4 x 8 and 4 x 10 ft panels in 5/8 and ¾ in. thickness, it comes with green NAF (no added formaldehyde) core and provides smooth and symmetrical inside and outside radii up to 3½ in. Product allows horizontal/vertical grade laminates, metals, 2-ply, and phenolic backed veneers to be laminated flat and then cold formed into any shape.
---
Original Press Release:

KerfGreen from Kerfkore Company Qualifies for LEED Credits and Makes Radius Work Fast and Precise



July 1, 2008

Kerfkore Company, a manufacturer of patented bendable substrates and panel products, now offers KerfGreen, an environmentally friendly version of Kerfkore with a green NAF (no added formaldehyde) core. KerfGreen qualifies for LEED (Leadership in Energy and Environmental Design) credits. It is ideally suited for doing fast and accurate radius work and for production environments where repetitive products are manufactured.

KerfGreen is a nominal 4' x 8' and 4' X10' panel size that is available in a 5/8" and ¾" thickness. The core material is a green NAF (no added formaldehyde). KerfGreen qualifies for LEED credit MR 4.1, MR 4.2 and EQ 4.4. The LEED green building rating system is the accepted benchmark for the design, construction and operation of high performance green buildings.

KerfGreen is a bendable substrate material that is so versatile it allows horizontal or vertical grade laminates, metals, 2-ply, and phenolic backed veneers to be laminated flat and then cold formed into virtually any shape without stress cracks, delaminating, or telegraphing. It provides for smooth and symmetrical inside and outside radii up to 3 ½".

Because of KerfGreen's unique construction, excess material can be used on other projects virtually eliminating scrap and saving money. It reduces labor by up to 70%, seams easily, and accepts contact adhesive. Even a novice can make curved components with this bendable substrate. KerfGreen is dimensionally stable and holds its shape when formed with a series of
horizontal ribs.

Additional information and samples are available from:
Kerfkore Company (a division of Interior Products, Inc.)
2630 Sidney Lanier Drive, Brunswick, GA 31525
Phone: 800-637-3539 or 912-264-6496
Fax: 912-262-9763.
E-mail: info@kerfkore.com

Url: www.kerfkore.com

Contact Tom Phillips at 912-264-6496 with any questions

More from Services