Bendable Bollards enhance protection and landscape aesthetics.
Press Release Summary: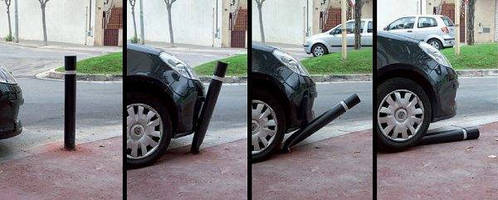 Intended for parking and other lower-risk locations, FLEX bollards mark and protect perimeters by creating clear edges and sightlines. Products bend up to 90° on impact and return to upright position when source of impact is removed. Promoting security while minimizing maintenance requirements for product and vehicles after contact, UV- and weather-resistant FLEX bollards appear rigid, feature composite polymer construction, and resist permanent deformation from up to 3,300 lb vehicles.
---
Original Press Release:

Reliance Foundry Adds Flexible Bollards that Enhance Landscapes



A new line of flexible bollards that bend up to 90 degrees on impact, but still provide a classic bollard look, offers North America improved aesthetics and functions that are cost-effective for both property and vehicle owners.

Reliance Foundry is adding flexible bollards that add functionality and landscape appeal to their product lines in the United States and Canada.

"These innovative bollards look and feel like a rigid structure and retain the benefits of marking perimeters, but will bend up to 90 degrees when impacted by a vehicle, and return to the upright position when the vehicle is removed," said Brad Done, vice president of Reliance Foundry Co. Ltd. "Flexible bollards are ideal for creating clear edges and sightlines for parking and other lower risk locations where vehicles will be near bollards."

At the same time, he said, the new "FLEX" bollards appear rigid so they provide the solid look of perimeter security bollards. Typical lower risk situations include those in which bollards are needed primarily to guide traffic, including pattern features such as roundabouts; protection features such as walls or curbs; delineation features to ensure that cars don't park on sidewalks; and pedestrian traffic dividers to offer walkway definition.

"The FLEX Bollards are very cost-effective for property owners - economically priced and requiring less maintenance than metal bollards which come in frequent contact with vehicles. When considering the cost of repairing concrete damage that occurs if well-anchored fixed bollards are struck hard enough to knock them out of the ground, these FLEX Bollards present an even greater cost-effective solution. And of course drivers appreciate avoiding, or minimizing the fairly significant damage to their vehicles that may occur if they strike a fixed metal bollard," Done noted.

Traditionally, flexible bollards have looked most at home in highway and other construction zones or industrial settings, while this new FLEX line includes both period and modern classic bollard styles produced in composite polymers that aesthetically add to the landscape. These bendable bollards provide excellent durability and weather resistance, in a wide range of colors that include metallic sheens, all in UV-resistant coatings. In addition, reflective strips can be provided to improve visibility at night. Extensive testing has shown these FLEX bollards easily resist permanent deformation from both cars and trucks weighing up to 3,300 pounds, or 1,500 kilograms, and stand up to repeated flexing.

More from Sensors, Monitors & Transducers