Benchtop Wire Stripper is suited for multiple uses.
Press Release Summary: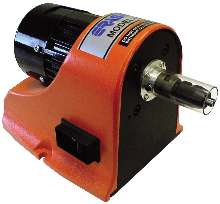 Using rotating insert, L2S Bench Wire Stripper removes film insulations from round wires ranging between 8 and 29 AWG, including enamel, Formvar, ML, armored poly-thermaleze, and epoxy. Able to be used for other applications, such as deflashing wires, cleaning legs of electronic components, and cleaning pins on transformers and coils, product also cleans wire wrap, DIP, and relay sockets. It also removes oxidation, flashing, and contaminated solder.
---
Original Press Release:
L2S Benchtop Wire Stripper

The L2S Bench Wire Stripper removes film insulations from round wires between 8-29 AWG (3.25-0.28 mmx) including enamel, Formvar, ML, armored poly-thermaleze and epoxy. A high-speed rotating insert quickly strips insulation from the surface of the wire. The L2S is extremely versatile and can be used for many other applications such as deflashing wires, cleaning legs of electronic components and cleaning pins on transformers and coils. The L2S cleans wire wrap sockets, DIP sockets and relay sockets. It can also remove oxidation, flashing and contaminated solder.

Since 1911, The Eraser Company of Syracuse, NY has manufactured a wide range of industrial products including wire, cable and tubing cutters, wire and cable strippers, wire twisters, wire brush wheels, fiber optic tools, dereelers, infrared heating equipment, measuring tools, and fybRglass. erasers. The company is ISO 9001:2000 certified. The company offers Free E.S.P. (Eraser Sample Program). Send a 5-10 foot sample of your material and Eraser will recommend the best solution for your processing needs from its line of more than 200 products. For unique processing needs, Eraser will custom design a solution for you. For more information on Eraser's entire product line visit www.eraser.com or call 315-454-3237.

ERASER CONTACT: Laura Prattico

(315) 454-3237, ext. 268

lprattico@eraser.com
More from Packaging Products & Equipment