Benchtop Welding Wire Feeder has heavy-duty design.
Press Release Summary: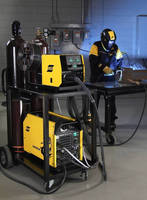 Featuring separate digital displays for voltage, wire feed speed, and amperage, Warrior® Feed 404 HD pays out .030–3/32 in. wire at speeds from 50–800 ipm. Drive roll design, combining 2 lower gear-driven rollers with 2 upper idler/smooth pressure rollers, minimizes scrubbing of wire, and debris generation. Along with Short Circuit Termination (SCT) technology, features include gas purge, wire inch, trigger lock, burnback, slow run-in speed, and ability to preset wire feed speed/voltage.
---
Original Press Release:

ESAB Warrior Feed® 404 HD Wire Feeder Costs 30 to 60 Percent Less to Operate, Delivers Premium Welding Performance



Florence, SC – ESAB today introduced the Warrior® Feed 404 HD, a heavy-duty bench-top wire feeder designed to feed .030- to 3/32-in. wire at speeds of 50 to 800 ipm in applications such as high-volume fabrication, structural steel fabrication, heavy fabrication (transportation, off-highway, railcar), ship building and others.



The Warrior Feed 404 HD can reduce cost of operation by up to 50 percent or more compared to other leading brands of feeders because of its drive roll design, which combines two lower gear-driven rollers with two upper idler/smooth pressure rollers. This design produces considerably less scrubbing of the wire, reducing debris generation by 8-12 times than that typically created from a 4-roll drive system. Reduced debris extends liner life by 30 to 60 percent. In addition, an upper idler system doesn't mar the wire like a 4-roll drive system, resulting in 4X to 6X longer contact tip life with cored wires. Lastly, users only need to buy two drive rolls instead of four, an instant 50 percent reduction in drive roll cost (average feed roll life is four to eight weeks, depending on the application, and drive rolls cost $40 for a set of two).



ESAB demonstrated the feeding power of the Warrior Feed 404 HD feeder in an extreme wire feed test (view video). The standard set by the IEC 60974-5 test specifications calls for one wrap of the gun cable around a 300 mm wire spool. ESAB wrapped the cable three times around the spool and it still fed flawlessly. Further, torque tests showed the Warrior 404 HD delivered the most powerful, consistent and accurate wire feeding over a full range of wire feed speeds, reducing the amount of stress on the motor and gear box, which extends motor life. A fan-cooled motor ensures it runs cool under the most challenging conditions to further extend the life of the motor.



Full-Function Feeder



The Warrior 404 HD feeder has all the features that production shops require, including gas purge, wire inch, trigger lock (2T/4T control), burnback, slow run-in speed and the ability to preset wire feed speed and voltage. The Warrior 404 HD is the only feeder with separate digital displays for voltage, wire feed speed and amperage values (operators are used to setting wire feed speed, but QA/QC personnel like to see amperage).



The feeder also incorporates Short Circuit Termination (SCT) technology, which sharpens the end of the welding wire at the termination of a weld. By eliminating the ball that typically forms on the end of the wire, the feeder optimizes the wire condition to promote a positive arc start. SCT technology also eliminates the need for the operator to clip the wire. In an operation with numerous weld stops and starts, the times savings will quickly add up.



Warrior System Solution



ESAB designed the Warrior Feed 404 HD to be paired with Warrior power sources, including the new Warrior 400i MV CC/CV, a multi-voltage, multi-process welding machine with the flexibility to accept three-phase primary power ranging from 220V to 460V±10%, 50 or 60 Hz. The Warrior 400i MV weighs 133 lbs., offers premium welding and gouging performance, provides up to 400 amps at 60% duty cycle and has a total output range of 5 to 400 amps.



To lower total production costs, pair the Warrior Feed 404 HD with MIG welding guns from Tweco®, an ESAB brand. The Tweco Spray Master® gun with Velocity™ consumables can extend contact tip life up to 8X or more in some applications. To fully optimize welding results, use ESAB filler metals, including OK AristoRod 12.50 ER70 S-6 solid wire, Coreweld® metal cored wires and Dual Shield® gas shielded flux cored wires.



ESAB Welding & Cutting Products is a recognized leader in the welding and cutting industry. From time-honored processes in welding and cutting to revolutionary technologies in mechanized cutting and automation, ESAB's filler metals, equipment, and accessories bring solutions to customers around the globe. For more information, visit www.esab.com or call 1-800-ESAB123.



FOR MORE INFORMATION, CONTACT:

Indy Datta

940-395-5466

indy.datta@esab.com