Benchtop System performs lead-free soldering operations.
Press Release Summary: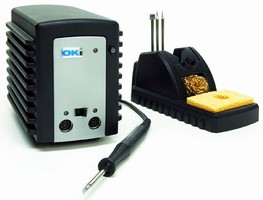 Utilizing Smartheat technology, MFR Series Multi Function Rework System can solder, desolder, and rework complex electronics assemblies. Compact power unit offers 2 ports for attachment of various MFR Series tools, and multiple units can be interlocked to power as many tools as necessary. Offered with various heater tips and tip cartridges, system protects sensitive components from damage by ESD-safe materials and built-in ground continuity-sensing technology.
---
Original Press Release:


Perform all your Lead-Free Soldering, Desoldering and Rework Tasks with just One Tool




OK International will set a new industry standard with the launch of its MFR Series -Multi Function Rework System at APEX 2006. Utilizing its powerful 'Smartheat' technology, this system meets all of today's lead-free soldering challenges.

With a single bench-top unit even the most complex electronics assemblies can now be soldered, desoldered and reworked using a comprehensive array of tools that set a new standard for flexibility, capability, reliability and value.

The MFR Series - Multi Function Rework System has a compact power unit which offers two ports to which any of the MFR Series tools can be attached quickly and easily for rework applications, SMT tasks and through-hole soldering and desoldering. For heavier or more varied workloads, multiple units can be interlocked to power as many tools as necessary.

The MFR Series offers a choice of heater tips or tip cartridges. The heater tips are designed to provide a cost-effective option to meet the demands of point to point production soldering; while tip cartridges are suitable for high performance soldering and rework applications.

The MFR Series tools, interchangeable heater tips and tip cartridges are extremely easy to assemble and use, and are ideal for demanding lead-free materials. This is due to OK International's powerful and long established SmartHeat technology, which takes the guesswork out of heat management by sensing the amount of heat energy needed at the pad and providing this accurately and instantaneously.

With this technology solder joint reliability and quality are guaranteed, cost of ownership is minimized, throughput is maximized and the PCB and components are protected from heat damage. Sensitive components are further protected from damage by ESD-safe materials and built-in ground continuity-sensing technology.

Tools in the MFR Series include:

o The patent-pending MFR-PTZ Precision Tweezer System whose unique dual fine point adjustment and pivot action allows even the smallest SMT devices, such as 0201 chip capacitors, to be handled during rework.
o The MFR-SRC Solder/Rework Cartridge System for fast, high performance soldering and rework applications.
o The MFR-PST Production Solder Tip System for cost-effective point to point production soldering.
o The MFR-DSI and MFR-DSX desoldering stations.

The lightweight hand pieces are designed for comfort and control with optimum tip-to-grip distance, while an impressive range of tip cartridge and heater tip geometries ensures easy access and precision performance in a wide variety of applications.

OK International's "Auto Standby" and "Auto Off" functions use innovative motion detection technology to save on energy usage and prolong tip life. The tip condition is enhanced by a special work stand design that incorporates tip cleaning and maintenance. Cost of ownership is further minimised as the MFR Series requires no calibration.

Incorporating the well-known Metcal, Techcon Systems and Impell product lines into its recently consolidated company structure, OK International draws on decades of design, manufacturing and application experience from different sectors, to match its world-class products with world-class support at a local level.

For further information, please contact:
OK International T: 714 799 9910
e-mail: pwood@okinternational.com Website: www.okinternational.com


More from Mechanical Components and Assemblies