Benchtop SMT Printers use tooling system to optimize production.
Press Release Summary: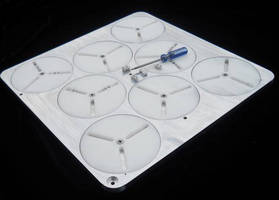 PrinTek printers come with tooling system that provides quick, flexible pin positioning and locking for facilitated setup of production runs. Disks and tracks, provided by tooling, give tooling pins R-Theta style range of freedom. When disk is secured and tightened and pin is locked in track, system is locked and ready to run multiple cycles holding PCB position and registration. Tooling features additional set of pins with shoulders raised by 0.25 in. to accommodate second side printing.
---
Original Press Release:

Transition Automation Upgrade's PrinTEK Tooling System



Tyngsboro, Massachusetts, USA—Transition Automation, Inc., today releases the latest tooling upgrade for the PrinTek family of benchtop SMT printers.  The new system provides quick flexible pin positioning and locking for the easy setup of printer production runs.  It is a common problem with the setup of pc boards on printers:  they need to have positive locking positioning elements – which are also easy to move and relocate.  Transition's new tooling is unique by providing disks and tracks giving the tooling pins an R-Theta style range of freedom.  When the disk is secured and tightened, and the pin is locked in the track, the system is locked and ready to run many cycles holding the pc board position and registration.  The new tooling comes standard on all Printek SMT printers, and features an additional set of pins with shoulders that  are raised by 0.25 inches, to accommodate second side printing of double-sided assemblies.



Transition Automation, Inc. is a worldwide leader in the manufacturing and distribution of Permalex® Edge Metal Squeegees, holder systems, and advanced SMT printing systems.  Founded in 1989, Transition Automation, Inc. continues to advance the state of the art in surface mount solder paste printing by innovating the critical and high-cycle squeegee component of the SMT assembly process.  The PrinTEK Series of SMT benchtop printers are renown for their ability to produce high quality results for ultra-fine pitch SMT in high-mix production situations. The company is located at 5 Trader Circle, Building D, Tyngsboro, Ma 01879 USA . Phone: 978-649-2400; Fax 978-649-2402, Web: www.transitionautomation.com



Mark J. Curtin, President

Transition Automation, Inc

Tel. 978-649-2400

E-mail: mcurtin2011@transitionautomation.com

   



Related