Benchtop CO2 Incubators utilize active gel insulation.
Press Release Summary: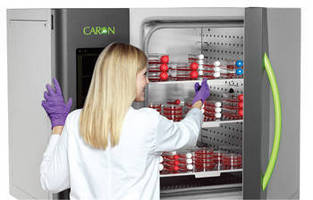 Available in non-refrigerated and refrigerated versions, 10 ft³ Benchtop GelJacket CO2 incubators incorporate active gel insulation technology inside every wall of chamber to optimize heat retention. GelJacket technology eliminates maintenance requirements, such as adding algaecide, as well as draining/filling of water. Other features include automatic 90°C moist heat decontamination cycle, gVapor(TM) controlled RH technology, and tool-free removal of interior components.
---
Original Press Release:

Caron Introduces Two New 10 cu. ft. "GelJacket" Benchtop CO2 Incubators, with Unique Active Insulation Technology



(Marietta, OH) Caron Products announces the introduction of two new products under the "GelJacket" name, incorporating its patent-pending active insulation technology. The breakthrough technology from Caron is the most significant advance in cell culture incubator design in decades. Caron will launch the 10 cu. ft. Benchtop GelJacket CO2 incubators at VWR International, LLC's North American Sales Meeting (NASM) January 11-12, 2011. Caron distributes its products primarily through VWR in the U.S. and Canada. Caron will offer a standard, non-refrigerated (Model 6014) and a refrigerated (Model 6016) version of the GelJacket CO2 Incubator.

GelJacket is a new proprietary active gel insulation technology. It is incorporated inside every wall of the incubator chamber, resulting in a product with thermal advantages that far surpass any CO2 incubator on the market. "Other than some advances in contamination control, there have been no major design improvements to incubators in many years," said Dave Figel, Vice President of Engineering & Operations. "Caron's GelJacket represents an innovative breakthrough concept that adds meaningful value to the cell culturing process. The GelJacket's heat retention capability greatly exceeds that of water jacketed incubators, while offering the low maintenance convenience of direct heat or air jacketed incubators."

The high-energy absorbing gel is able to retain a far greater amount of heat than any other insulation technology available in CO2 incubators.

"Researchers have traditionally preferred water jacket incubators, primarily due to the thermal protection they offer to cultures during incubator door openings or power failures," Figel said. "Caron's new GelJacket insulation has a volumetric heat capacity that is 40 times greater than water."

The GelJacket technology eliminates all of the disadvantages of water jacket incubators, including frequent maintenance requirements, such as adding algaecide, and draining and filling the water. Water jacket incubators are also very heavy, limiting their mobility in and around a laboratory. GelJacket's sealed gel requires no maintenance, and is lightweight with virtually no risk of leakage. In addition, Caron's GelJacket incubator is the first to exceed water jacket thermal protection while incorporating an automatic built-in 90°C moist heat decontamination cycle, not possible with water jacket incubators.

"Scientists and researchers have long sacrificed the convenience and technical innovation offered in air jacketed incubators because they valued the thermal protection of the water jacketed incubators," said Bob Dotterer, Applications Engineer. "Now, scientists don't have to compromise between the thermal characteristics of a water jacket incubator or the low maintenance, low weight and decontamination features of an air jacket incubator. The GelJacket incorporates all the advantages of both historical incubator types, with none of the disadvantages of either."

The GelJacket CO2 Incubators fit on a benchtop, taking up minimal laboratory space, and can be stacked two high. They include gVapor(TM), Caron's earth friendly controlled relative humidity technology, which eliminates the need for a water pan. The interior components can be completely removed without the use of tools, allowing users to easily wipe down the incubator for routine procedures or reconfigure it according to their application. A wide range of accessories is available, allowing users to customize each unit to their particular need.

"As scientists discover the superior performance and user simplicity of GelJacket, we predict that water jacket incubators will be phased out over time in favor of this new generation of CO2 incubators," Dotterer said.

For more information about the new GelJacket Benchtop CO2 Incubators, contact Caron's customer service department at 800-648-3042 or visit www.caronproducts.com/geljacket.

About Caron:

Caron Products & Services, Inc. is a Marietta, Ohio based manufacturer of environmental chambers for temperature and RH exposure testing; photostability chambers to conform to ICH Guidelines Q1B; Benchtop and Reach-in CO2 incubators for small to large scale, high volume cell culture; and baths/circulators for precise temperature control of laboratory devices. For more information on Caron, visit our website at www.caronproducts.com, contact us at 800-648-3042, fax 740-374-3760, or e-mail sales@caronproducts.com.

More from Software