Benchtop AOI System inspects up to 100,000 components/hr.
Press Release Summary: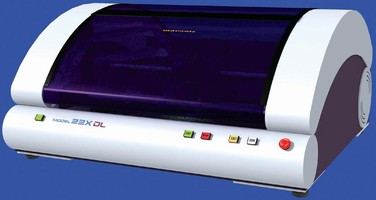 Equipped to handle boards up to 650 x 550 mm, M22XDL-650 is powered by Intel Pro Mac control system and features color imaging graphics. Automated Optical Inspection (AOI) system supports comprehensive PCB inspection, including SMT and THT components, reflow and wave solder joints, and solder paste. With 3 PWM LED light sources and up to 6 different lighting combinations, design facilitates operator control for inspection accuracy.
---
Original Press Release:

Marantz Business Electronics to Showcase Advanced AOI Expertise at SMT Nuremberg, stand 9-634



Marantz Business Electronics will launch its advanced M22XDL-650 benchtop Automated Optical Inspection system at this year's SMT Nuremberg exhibition, being held in Germany over April 24th - 26th. Forming part of a comprehensive display of AOI expertise on stand #9-634, Marantz' breakthrough new machine is equipped to handle boards of up to 650mm x 550mm.

Boasting an inspection capability of 100,000 components per hour, the M22XDL-650 supports comprehensive PCB inspection, including SMT and THT components, reflow and wave solder joints, and solder paste. The innovative AOI system is powered by an Intel Pro Mac control system, equipping it to deliver best-in-class full colour imaging graphics. Having recently been chosen by electronics assembly specialist Elect High-Tech Electronics, Weerselo, The Netherlands, over two well known competing systems, the M22XDL-650 is already gaining recognition for its ease of programming and usability advantage.

By building on the proven strengths of Marantz' popular CL systems, the 22XDL generation introduces an innovative new lighting concept, with 3 Pulse Wave
Modulated LED light sources and up to 6 different lighting combinations enhancing operator control for exceptional inspection accuracy. This unrivalled operator control is further enhanced by Rep 22X Statistics and Repair Desk Software, also being showcased on Marantz' SMT Nuremberg stand. Actively collecting inspection data from any 22X AOI machine in the network, the software's advanced functionality can be applied to PCBs individually for repair purposes or collectively to generate process statistics and analysis, maximising operator visibility and knowledge throughout the entire inspection process.

Visitors to Marantz' SMT Nuremberg stand can also find out more about the company's new in-line AOI system, L22XDL-520. By talking to the Marantz team, on stand for the duration of the show, visitors will discover how the L22XDL-520 unites fast programming, reliable detection and true 24/7 operation on a single platform to deliver near 100% uptime and enhance operator control.

Our name may be familiar, but perhaps not in the electronics assembly market. The Business Electronics division of Marantz is currently driving powerful process control and maximum production yields throughout today's electronics industry. Marantz has over 3,500 AOI machines in use worldwide, which makes us an industry leader.

About Marantz Business Electronics
Well known for high quality Audio/Video products, Marantz developed its first AOI system in 1994. Developed to inspect PCB assemblies for correct component placement and soldering, the AOI system was designed for use in Marantz's own factories. Proving to be a highly successful, cost-effective alternative to traditional human inspection, Marantz developed its first generation commercial system in 1996. With a steadily growing installed base, Marantz Business Electronics has now sold over 3,500 units worldwide.

Company Contact
Henk Biemans
Marantz Europe
Beemdstraat 11,
5653 MA
Eindhoven
The Netherlands
Tel: +31 40 2507870
Email: henk.biemans@marantzeurope.com
marantz.com/bus/eu

Agency Contact
Helena Osborn
Protean Marketing Communications Ltd
Unit 1, Cutbush Court
Danehill, Lower Earley,
Reading, RG6 4UW
UK
Tel: +44 (0)118 975 9880
Email: helena.osborn@protean.co.uk
http://www.proteanmarketing.com/

More from Test & Measurement