Bench-top Vision System measures small workpieces.
Press Release Summary: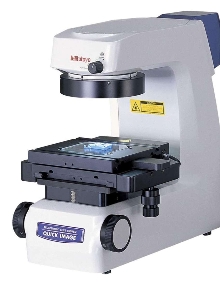 Non-contact QUICK IMAGE® COLOR 2D vision system integrates telecentric optics, CCD color camera, and four-quadrant LED lighting into compact instrument. Field of view measuring 29.5 x 22.2 mm enables complete capture of small workpieces, including those with stepped features, in single view. Standard QIPAK® software provides repeatable, programmable measuring sequences; high evaluation speed; and automatic report generation.
---
Original Press Release:

Mitutoyo QUICK IMAGE® COLOR Vision Measuring System Puts High Productivity on the Bench-Top


(Aurora, IL) Mitutoyo America Corporation announces the availability of QUICK IMAGE® COLOR, a bench-top, 2-D color vision system designed for reliable, precise, non-contacting measurement of small workpieces - especially those that are easily deformable, delicate, or highly-structured.

QUICK IMAGE COLOR integrates advanced telecentric optics, a high-precision CCD color camera and four-quadrant LED lighting into a compact instrument which combines with a desktop PC or laptop to provide a mobile non-contacting measurement solution suited for work environments ranging from the lab to the production floor.

The QUICK IMAGE COLOR telecentric lens train provides an extremely wide field of view (29.5mm X 22.2mm) which together with great depth of field enables complete capture of small workpieces, even those with stepped features, in a single view.
The system's high-precision color CCD camera captures elevations and contours with great accuracy and clarity for viewing, inspection or analysis on a desktop PC or laptop.

With the QUICK IMAGE COLOR flexible lighting system, all variations of light - whether transmitted, coaxial, or generated by the large, four-quadrant LED ring array - can be controlled so that even fine, low-contrast part features become easily visible and measurable.

QUICK IMAGE COLOR comes standard with QIPAK® software for convenient, repeatable, programmable measuring sequences, high evaluation speed and automatic report generation. With the optional MeasurLink® module, measurements can be subjected to multiple statistical analyses.

Mitutoyo America Corporation's nationwide network of Metrology Centers and support operations provide application, calibration, service, repair and educational programs for industry. This ensures that our 6,000+ metrology products will deliver measurement solutions for our customers throughout their lifetime.

Contact Mitutoyo America Corporation, 965 Corporate Boulevard, Aurora, IL 60504. Phone: (630) 978-5385 Fax: (630) 820-7403
E-mail: info@mitutoyo.com Or visit our website at www.mitutoyo.com

More from Packaging Products & Equipment