Belt Tension Meter helps optimize transmission performance.
Press Release Summary: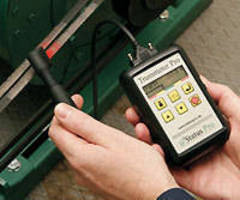 With Trummeter Pro, users can measure belt tension of pulley-driven transmissions and adjust it accordingly. Device displays tension reading and also indicates if tension is too high or too low. When user induces slight vibration on drive belt, meter will detect vibration and estimate natural frequency of belt assembly. Together with belt mass and length of free belt strand, true force is calculated. Optional evaluation software lets user store and report measured values.
---
Original Press Release:
New from Seiffert Industrial, Trummeter Pro
New from Seiffert Industrial, Trummeter Pro Allows You to Measure Belt Tension Quickly and Accurately Pulley-driven transmissions perform best and require a minimum of maintenance when they are well aligned and are fitted with an optimal belt tension. With the Trummeter Pro, you can measure the tension quickly and accurately and adjust it accordingly. The (http://www.seiffertindustrial.com/products/belt-tensioning) Trummeter Pro instrument is unique because it not only displays a tension but it can tell you if the tension is too high or too low. It is fitted with optional evaluation software which allows you to store and report measured values. The lifetime of belt drives is mainly affected by three critical factors:
Belt Alignment, Belt Tensioning and Speed The belt alignment can be easily measured and corrected with Seiffert Industrial's laser pulley alignment systems: Pulley Partner®, (http://www.seiffertindustrial.com/products/pulley-alignment/pulley-pro-green) Pulley PRO® Green and Pulley Partner LRS®. The Trummeter Pro measures the belt tension and drive speed quickly and easily. Just induce a slight vibration on the drive belt and the Trummeter Pro detects this vibration and estimates the "so called" natural frequency of the belt assembly. Together with the belt mass and the length of the free belt strand, the trum force is calculated. By using the Trummeter Pro along with Seiffert Industrial's laser pulley alignment systems, the performance of your pulley-driven transmissions will be optimized. More about Seiffert Industrial, Inc: Seiffert Industrial specializes in precision laser alignment systems for the industrial and aerospace market and has been a leader in laser alignment since 1991. For more information about our pulley laser alignment and parallel roll alignment systems, please see our website at www.seiffertindustrial.com
More from Controls & Controllers