Belt Grinding Systems feature mobile handheld design.
Press Release Summary: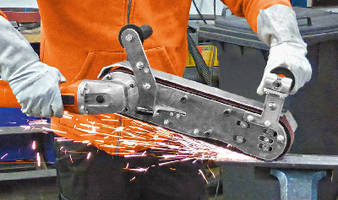 Set up as portable or stationary grinding stations, Slugger by FEIN GHB 15-50 and GHB 15-50 INOX provide flexible on-site operations. Tools feature grinding platen with 3 1/8 in. surface for grinding and finishing of flat surfaces. Equipped with 1,500 W motor, GHB 15-50 has constant speed of 8,500 rpm for high stock removal rate, while GHB 15-50 INOX has 2,500–7,900 rpm variable speed for grinding and finishing stainless steel. Other features include tool-less belt change and adjustable handle.
---
Original Press Release:
New Slugger by FEIN GHB 15-50 Hand-Held Belt Grinding System
The new Slugger by FEIN GHB 15-50 is flexible, powerful and comfortable; all in one package.

The new, GHB 15-50 and GHB 15-50 INOX, Slugger by FEIN mobile hand-held belt grinder, is ideal in situations where an angle grinder is insufficient and/or the grinding surface can't be moved.

The tools feature the three most important capabilities belt grinding machines should have — flexibility, power and comfort.
Flexibility: The Slugger by FEIN GHB 15-50 and GHB 15-50 INOX can be set up as a portable or stationary grinding station, providing flexible on-site operations. Another important feature is the grinding platen, which has a surface of 3-1/8 in (80 mm) for the grinding and finishing of flat surfaces. These capabilities make these tools the perfect problem solver for nearly any grinding work on different applications.

Extreme power: The tools have the 1,500-watt FEIN motor. The GHB 15-50 has a constant speed of 8,500 rpm for a high stock removal rate, and the GHB 15-50 INOX has a variable speed of 2,500 to 7,900 rpm for the grinding and finishing of stainless steel. They're about three times faster than an angle grinder in beveling and weld grinding, with excellent surface finish. The tools have a wide belt selection that can be chosen to match the application and finish required.

User comfort: The Slugger by FEIN GHB 15-50 and GHB 15-50 Inox feature tool-less belt change. By pulling the belt tensioning lever back, users can change the abrasive belt quick and tool-free. Another bonus is the adjustable handle, which can be turned 0, 90 or 180 degrees, facilitating optimal work ergonomics in any situation. The machines also feature a rotatable built-on motor. Depending on the working position and application, the motor can be turned nearly 360 degrees.

The tools can be used for a wide range of applications including: fabricating, foundries, bridge building, specialty metal construction, shipbuilding, as well as stainless and pipe processing applications. Both machines are an efficient alternative to angle grinders to process carbon steel and stainless steel, and provide an excellent finish quality.

Press contact:
Tracy Nedzesky
FEIN Power Tools Inc.
1000 Omega Drive
Pittsburgh, PA 15205
Phone:  412.922.8886
E-mail: Tracy.nedzesky@feinus.com
More from Fluid & Gas Flow Equipment