Belt Driven Linear Stages suit positioning applications.
Press Release Summary: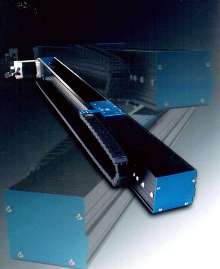 Measuring 4.03 x 3.58 x stroke length plus 15 in. long, compact BL series linear position stages are available with travel lengths to 144 in. They move loads up to 200 lb at speeds from .001-200 in./sec with acceleration of 2G. Horizontally or vertically mountable, stages can supplied in multi-axis configurations with variety of motor/gearmotor options. Other options include fail-safe brake, cable carrier, bellows, limit switches, and feet.
---
Original Press Release:

High Speed Belt Driven Linear Stages are Precise, Reliable, Flexible, and Low Cost!


Valencia, CA- Low cost, high performance belt driven linear positioning stages from H2W Technologies, Inc. are available in travel lengths to 144 inches (3.65 m) and are configured to easily integrate into new and existing applications. H2W's BL series linear position stages are ideal for a wide variety of positioning applications such as: Water jet and laser cutting machines, laser etching machines, pick-and-place robots, parts transfer, and highspeed sewing machines. These low maintenance, compact stages are just 4.030 in. (101.6 mm) wide x 3.580 in. (98.5 mm) high x the stroke length plus 15 in. (381 mm) long.

The integration of durable H2W Technologies BL series linear positioning stages can result in higher throughput by moving loads up to 200 lbs. (90.5 kg.) at speeds up to 200 in/sec (5 m/s) with 2Gs acceleration. However, if very low speeds are required, the BL series linear positioning stages are capable of speeds below .001 in/sec. (25.4 µm). To assure the highest degree of accuracy in addition to an optional integral motor encoder, provision is made for the addition of a magnetic linear encoder with quadrature output for dual closed loop operation. Additionally, Belt tension can be easily adjusted to assure high accuracy and repeatability.

BL series linear stages can be mounted horizontally or vertically and can be supplied in multi-axis configurations. Motor/gearmotor options include: Steppers, DC brush, and AC brushless motors. Direct drive eliminates the need for couplings and results in a more compact footprint. The stage can be customized (size, tapped holes, slots, etc.) as required. Other options include: Fail-safe brake, cable carrier, bellows, limit switches, and feet. The BL series linear positioning stages can also be supplied with an indexer/driver for open loop stepper applications or servo amplifier and programmable controller for closed loop operation.

H2W Technologies, Inc. is dedicated to the design and manufacture of linear and rotary motion products that are used throughout the motion control industry. The complete line of linear electric motors includes: Single and dual axis linear steppers, DC brush and brushless linear motors, voice coil actuators, and AC induction motors. Also offered is a complete line of ball screw, lead screw, and belt driven positioning stages.

Other motion control products include: Limited angle torque motors for compact, limited angular excursion rotary servo applications, 3 phase brushless rotary servo motors with matching digital servo amplifiers and permanent magnet linear brakes for fail-safe, zero power braking for baggage handling and people moving applications, as well as amusement park rides.

With over 75 years combined experience in the linear and rotary motion field, the H2W Technologies team of engineers offers the optimal solution to the most demanding motion control requirements.

For additional information contact Ted Scheumann at H2W Technologies, 28310-C Avenue Crocker, Valencia, CA91355; Tel: 888-702-0540, Fax: 661-702-9348, E-Mail: info@h2wtech.con or visit the Web site at www.h2wtech.com

More from Communication Systems & Equipment