Belt-Driven Air Compressor is available for Ford Transit.
Press Release Summary: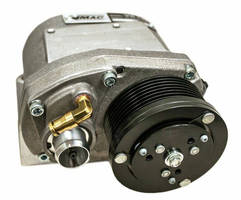 With rated capacity of 30 cfm at 100 psi (150 psi max), UNDERHOOD LITE 100% duty cycle, VMAC, oil-injected, rotary screw air compressor system, available on Ford® Transit® 3.7L Ti-VCT V6 Van, mounts directly on engine and weighs 85 lb. Combined oil cooler and air/oil separator tank measures 17.5 x 8 x 19.75 in. (including oil filter), and other features include 2-speed throttle control (base and elevated idle), hour meter, and high idle speed adjustment. Various safety features are standard.
---
Original Press Release:
VMAC UNDERHOOD LITE Air Compressor Now Available for Ford Transit
Nanaimo, BC. - VMAC is pleased to announce that the UNDERHOOD LITE air compressor system is now available on the Ford® Transit® 3.7L Ti-VCT V6 Van. This brings the efficiency, power, safety and performance of the UNDERHOOD LITE air compressor system to the growing number of Ford Transit Van fleets across North America.

Commercial vans, such as the Ford Transit Van, are increasingly taking the place of light duty work trucks thanks to their fuel efficiency, low GVW (gross vehicle weight), storage space, and the ability to work inside a heated or cooled work area. However, very little purpose-built tools exist for these vans. The specifically designed UNDERHOOD LITE changes that by putting 30 CFM right on the engine of the van at a total weight of only 85 lbs (38.5 kg). This is a mere fraction of the weight of most air compressors. Its size, weight, and ease-of-use make it a perfect choice for construction, utilities, and public works fleets.

The UNDERHOOD LITE addresses four problem areas for van operators when choosing an air compressor.

It makes workers safer by creating a system that does not require the worker to haul large, heavy and dangerous equipment in and out of the van body. It also eliminates any threat of unhealthy emissions, and the potential for fires while filling up gas tanks inside the cargo area.

It controls operating costs by reducing fuel consumption due to its lightweight nature; it has a lower price point than many comparable air compressors.

It frees up cargo space because the system is installed on the van engine.

It provides the right amount of power for the application. With 30 CFM at 100PSI (max 150PSI) of power, it can meet the needs of any job that vans are used for.

"Happy operators, fleet managers and safety officers is our primary goal," says Mike Pettigrew, VMAC Marketing Manager. "The UNDERHOOD LITE air compressor for Ford Transit Vans is the first air compressor that is purpose built for this van. It delivers what it promises, making everyone happy."

The UNDERHOOD LITE air compressor system is backed by VMAC's industry-leading Lifetime Warranty, providing the protection required to make a sound equipment investment.

VMAC UNDERHOOD LITE Features:

Compressor Type - Belt Driven, 100% duty cycle, VMAC Oil-injected rotary screw
Rated Air Capacity - 30CFM @ 100PSI (150PSI Max.)
Weight (wet) - Approx. 85lbs (38.6 kg)
WHASP Tank - Combined oil cooler and air/oil separator tank
WHASP Dimensions - 17.5"(h) x 8"(w) x 19.75"(l), including oil filter
Mounting Bracket - Application engineered, easy installation
Throttle Control - Two speed operation (base and elevated idle)
Displays and Controls - Easy to read hour meter, high idle speed adjustment
Safety Features - Compressor thermal protection circuit; automatic rapid blowdown valve on tank; 200PSI overpressure safety valve; parking brake must be engaged and truck must be in park for the system to start

For more information on the UNDERHOOD LITE air compressor, please visit www.vmacair.com/uhl

For high resolution photos, please contact:
Shannon Russell
VMAC Marketing
250-740-3200
shannon_russell@vmacair.com

For all other inquiries, please contact:
VMAC Sales
1-877-912-6605
sales@vmacair.com

About VMAC
VMAC engineers and manufactures compact, powerful compressed air solutions for clients in the mobile-mechanic, tire service, utilities, mining and gas, and construction industries. Beginning almost 30 years ago with a contract to design a jet engine for the Canadian military VMAC has grown into the world-wide leader in manufacturing UNDERHOOD air compressor systems. These award-winning systems use less space, are light-weight and powerful. VMAC is one of only a few companies in North America that completely manufactures its own rotary screw compressors, and also designs custom solutions for multi-national OEM clients. VMAC has won multiple awards including 75 Best Workplaces in Canada and the B.C. Exporter of the Year award.
More from Packaging Products & Equipment