Belt Conveyor Oven Cures Powder on Aluminum Water Bottles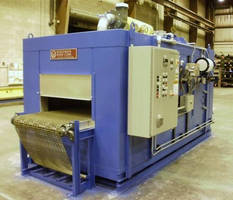 Wisconsin Oven designed and manufactured a gas fired belt conveyor oven for a manufacturer of recycled metal bottles. The oven is designed to cure powder paint on aluminum water bottles. The curing conveyor oven has a production rate of 1,500 aluminum water bottles per hour.

The oven chamber is 3' wide x 12' long x 10" high. The maximum temperature rating is 500° F with a normal operating temperature of 125° F. The belt conveyor oven uses a 1" x 1" flat wire belt made of 304 stainless steel. A digital conveyor speed display and variable frequency AC drive with electronic torque limiting, adjustable from 0.5 to 1.0 feet per minute were provided on the oven.

The UL labeled and certified NEMA 12 control enclosure includes IEC style motor starters, push buttons, and pilot lights. The temperature is controlled by a Honeywell UDC2500 temperature controller. The recirculation system utilizes adjustable louvers, direct drive blowers and a bottom-up airflow design for optimum air flow efficiencies.

The customer also added Wisconsin Oven's energy efficient E-Pack(TM) oven upgrade which includes thicker wall panels, higher efficient motors, a door limit switch, and a few other energy saving items that will reduce their operating costs.

For further details on this equipment, or if you would like to work with us on another application, contact our sales office at (262) 642-3938, or by email at sales@wisoven.com. For additional information on our Belt Conveyor Ovens or to request a quote, visit our website at http://www.wisoven.com/conveyor-ovens/belt-conveyor-ovens-furnaces.