Belt Conveyor incorporates cleated inclines.
Press Release Summary: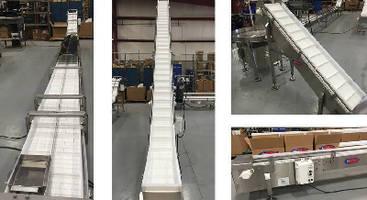 Offering solution for confectionary operations, Conveyor System features stainless steel sections that incorporate plastic belt conveyors with cleated inclines and rotary accumulation to final hand-pack station. Conveyor section elevates individual product at load of 2 lb/lineal ft at rate of 60 fpm. Pieces are fed into existing bagger which drops newly bagged product onto lower elevation conveyor. Bags are then discharged onto rotary table which is available in 30, 36, 42, or 48 in. sizes.
---
Original Press Release:

Cleated Inclines, Rotary Accumulation to Hand Pack Conveying



A perfect solution for this Confectionary operation.



Winneconne, WI - Multi-Conveyor (www.multi-conveyor.com)  - Multi-Conveyor recently built a system of stainless steel constructed conveyor sections that incorporate plastic belt conveyors with cleated inclines, rotary accumulation to a final hand-pack station.



After the confectionary product is scanned by an existing metal detection system, the individually wrapped product is dispensed onto a singled powered plastic belt conveyor. The elevation changes from horizontal to incline then back to horizontal.



Trays were placed in key locations to test random product for quality and sample inspection. The trays are triggered to open and close, pneumatically, at the customer's command.



The cleats on both of the horizontal and incline belts help stabilize smaller product to prevent falling while in transport.



The higher elevated conveyor section elevates the individual product at a load of two pounds per lineal foot at a rate of 60 fpm. The pieces are fed into an existing bagger which then, by shear gravity, will drop newly bagged product onto a lower elevation conveyor.



The bagged product will once again be slightly inclined on a fricton-top carry surface cleated belt conveyor at one pound per lineal foot where they are gently discharged onto a rotary accumulation table.



Rotary tables are available in sizes of 30, 36, 42 or 48" configurations. The bags will accumulate on the rotary table until an operator is ready to pack the bags into cartons from the customer's existing cartoner.



Multi-Conveyor also built a 7' long, 12" wide straight horizontal conveyor for single lane cartoning of product. The cartoner dispenses boxes onto the line where the operator hand packs the bagged product.



About Multi-Conveyor

Multi-Conveyor has successfully produced standard and custom conveyor solutions for Integrators, OEM's, and end-users across multiple markets and industries for over two decades. Specializing in conveyors that assist in packaging food, dairy, pharmaceutical, chemical, industrial, automotive and material handling industries, our customers report they select Multi-Conveyor for concept/design, engineering skills, high-quality product, best value and prompt delivery schedules. Multi-Conveyor excels in stainless steel and mild steel construction conveyors for table top chains, modular plastic belts, and fabric belting, are licensed to build Intralox ARB solutions, and provide many types of elevators, lowerators and accumulators. We also design and provide the control devices, systems and panels with our in-house control department.



For more information about Multi-Conveyor, or to get a quote on your next project, call toll-free 1-800-236-7960, e-mail info@multi-conveyor.com or visit www.multi-conveyor.com.

More from Material Handling & Storage