Bellows Vacuum Cups persevere in short-cycle applications.
Press Release Summary: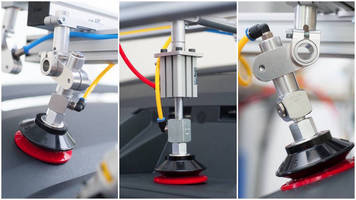 Featuring dimensionally stable body and soft, low-marking sealing lip, SP-BX Series Varioflex® bellows vacuum cups facilitate gentle and reliable lifting, handling, and placement of hot, delicate, curved, and rough plastic parts. Construction is of oil-, ozone-, and wear-resistant polyurethane composite material that withstands temperatures up to 122°F as well as regular contact with abrasive surfaces over extended periods. Bellows are available with 1.5 or 2.5 folds.
---
Original Press Release:

FIPA's Varioflex® Bellows Vacuum Cups Deliver Long-Life Solutions for Short-Cycle, Automated Plastics Applications



Featuring a dimensionally stable body & soft, low-marking sealing lip, FIPA's extremely wear-resistant Varioflex bellows vacuum cups facilitate the gentle & reliable lifting, handling, & placement of hot, delicate, curved, & even rough plastic parts



CARY, N.C. — FIPA Inc., a leading manufacturer of advanced vacuum technology, gripper systems, air nippers, tube lifters, and end-of-arm-tooling (EOAT), announces its SP-BX Series Varioflex® bellows vacuum cups for short-cycle automation applications in the plastics industry. Varioflex bellows vacuum cups deliver outstanding holding capacity, long lifetime performance, and outstanding reset force for fast cycle times, and are made of oil-, ozone-, and extremely wear-resistant polyurethane composite material that can withstand temperatures up to 50°C (122°F) and regular contact with abrasive surfaces over extended periods of time. Featuring a dimensionally stable body (60° Shore A, black), a soft, low-marking sealing lip (30° Shore A, red), and bellows with 1.5 or 2.5 folds, SP-BX Series vacuum cups facilitate the gentle and reliable lifting, handling, and placement of hot, delicate, curved, and even rough plastic parts while effortlessly compensating for small to medium height and angle differences between workpieces to effectively minimize suction loss due to micro-leakage. The combination of the series' stable body and soft sealing lip also achieves high holding force and high stability against lateral bending, even under unfavorable manufacturing conditions, which significantly increases reliability in short-cycle applications like removing hot parts from injection molding machines.



"The unique features and benefits of our Varioflex bellows vacuum cups make them ideal for a wide variety of product shapes and materials, including: delicate plastics, dry metal sheets, pliant cardboard, and rough wood and concrete. As such, we have successfully employed them in several of the custom material handling solutions we've built for applications in which high holding force, long lifetime performance, short cycle times, and the ability to compensate for height differences and other material inconsistencies were vital to the success of the operation," said Rainer Mehrer, president of FIPA. "Our Varioflex bellows vacuum cups have effectively solved suction loss issues for a prominent supplier of injection molded parts for vehicle interiors, ergonomic and efficiency issues for a repackaging outfit, precision and cycle-time issues for a robotics company, and surface marking and contaminant issues for a leading global supplier of sensor solutions, amongst many others."



Rated for use in temperatures ranging from 10° – 50°C (50°F – 122°F), FIPA's Varioflex bellows vacuum cups are offered in two sub-series. SP-BX1 Series Varioflex bellows vacuum cups are available with diameters spanning 16 – 160mm, and have bellows with 1.5 folds to compensate for material height differences and stabilizing cleats to enable fast acceleration and prevent the deep drawing of thin materials like sheet metal. SP-BX2 Series Varioflex bellows vacuum cups are available with diameters spanning 16 – 77mm, and have bellows with 2.5 folds to accommodate applications that require both height and angle compensation, like demolding injection-molded parts. SP-BX2 cups with diameters of at least 77mm also feature a filter disk between the bellows, and optional filter disks are available for SP-BX2 cups spanning 26 – 53mm in diameter.



For more information about FIPA's SP-BX Varioflex bellows vacuum cups, please visit http://www.fipa.com/en_GB/products/217609-varioflex-bellows-vacuum-cups, or, if you're planning to attend K 2016 — the world's leading trade fair for the plastics and rubber industries — October 19 – 26 in Düsseldorf, Germany, please visit FIPA at Stand D-28 in Hall 10. For all other inquiries, please visit http://www.fipa.com, call 919-651-9888, or write to 1855 Evans Road, Cary, NC 27513.



Editor's Note: To schedule an appointment with a FIPA representative at K 2016, please contact Sarah Teal, public relations coordinator, BtB Marketing Communications, at sarah.teal@btbmarketing.com or 919-872-8172.



About FIPA, Inc.

Founded in 2006 as a fully owned subsidiary of FIPA GmbH, FIPA Inc. is an international innovator and manufacturer of advanced vacuum technology, gripper systems, air nippers, tube lifters, and End-of-Arm-Tooling (EOAT) for automated assembly equipment and material handling systems. Spanning components to complete systems, FIPA's products are broadly employed in applications ranging from packaging, automotive assembly, and manufacturing automation equipment to material handling systems designed to move plastics, metals, glass, wood products, and, for printing equipment, paper and films. FIPA also delivers flexible, dynamic solutions on short lead times, and provides superior service and technical support.



Founded in 1985 and headquartered in Ismaning, Germany, FIPA GmbH has steadily expanded its global presence in recent years, adding representations in the United States, Thailand, Hungary, and China. For more information about FIPA's products, services, and news, please visit http://www.fipa.com.



For more information, please contact:

Jennifer Heidbrede, Manager

International Marketing Communication

FIPA Group

0049-89-962-4890

jheidbrede@fipa.com



Christine Stieglitz

PR Executive, BtB Marketing Communications

919-872-8172

christine.stieglitz@btbmarketing.com

More from Packaging Products & Equipment