Bellows Couplings feature zero backlash.
Press Release Summary: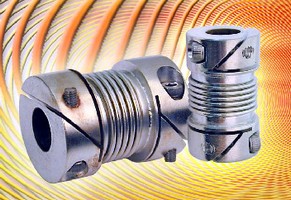 Suited for 1/8-3/8 in. and 3-12 mm dia shafts, Series S50FP9 has max torque range of 120-300 oz-in. Couplings accommodate max angular misalignment of 5-6° and parallel offset of .015 in. Featuring phosphor bronze bellows, brass hubs, and tin plate finish, units absorb end play in shafts and dampen vibration and noise levels. Fairloc® hub fastening system eliminates marred shafts while adding positive metal-to-metal fastening strength along both hub sections.
---
Original Press Release:

New Series of 14 Bellows Couplings from Sterling



New Hyde Park, New York - A new series of 7 inch and 7 metric bellows couplings manufactured by Sterling Instrument feature the patented Fairloc® integral hub fastening system which eliminates marred shafts. The choice of Fairloc® rotating component fastening system helps phase adjustment, timing, position adjustment and frequent removal problems while adding positive metal-to-metal fastening strength along both hub sections. It is compact, self-contained and offers a small coupling hub envelope.

The couplings, identified as the S50FP9 Series, feature zero backlash and are designed to correct for angular and parallel axis misalignment thereby permitting for looser tolerances in mounting components. In addition they absorb end play in shafts and dampen both vibration and noise levels. They are both easy to install and readily adjustable on the shaft. These couplings are designed to fit shafts ranging from 1/8" to 3/8" (3 mm to 12 mm) in diameter and have a maximum torque range of between 120 oz. in. to 300 oz. in. (0.85 Nm to 2.12 Nm). They can accommodate a maximum angular misalignment and parallel offset of 5° to 6° and .015" (0.4 mm) respectively. These couplings feature a phosphor bronze bellows section, brass hubs and a tin plate finish.

The Fairloc® system consists of two slots that are machined into the aluminum hub, one orientated radially the other angularly, to create a transverse wedge which remains attached to the solid portion of the hub on one side. The resultant cantilevered clamping section has a tapped hole to accept a cap screw which passes through a clearance hole in the solid portion of the hub, and into a threaded hole in the transverse wedge section. As the screw is tightened, the cantilevered section clamps the shaft securely. The screw can be tightened and released repeatedly without marring the shaft or affecting its torque transmitting abilities.

Additional specifications are contained in Catalog D790 and D785, available free upon request from Sterling Instrument, 2101 Jericho Turnpike, Box 5416, New Hyde Park, New York 11042-5416. Phone: 516-328-3300 Fax: 516-326-8827. Web: www.sdp-si.com

Company Name: Stock Drive Products/Sterling Instrument
Address 1: 2101 Jericho Tpke.
Address 2: P.O. Box 5416
City: New Hyde Park
State: NY
Zip: 11042-5416
Country: USA
Phone: 516-328-3300
URL: http://sdp-si.com/press/new/Fairloc6_13.htm

Contact Name: Herb Arum
Title: Marketing Manager
E-mail: cpratt@sdp-si.com

More from Controls & Controllers