Bellow Couplings are torsionally rigid with zero backlash.
Press Release Summary: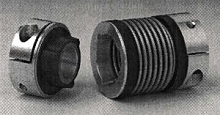 MK5 Series press-fit miniature couplings feature keyed tapered hub design allowing them to be quickly mounted and dismounted. Stainless steel bellow compensates for axial, angular, and lateral misalignment. It also isolates shaft bearings of drive and driven elements from any side loading due to misalignment. Shaft hubs are custom bored on each side for shaft sizes from 0.12 to 0.79 in. Sizes are available for torque capacities from 4.5 to 88.5 lb-in.
---
Original Press Release:
Precision Press-Fit Miniature Bellow Couplings Series MK 5

Taking up the challenge for greater technical demands in modern machine design and construction, R+W has developed the unique MK5 series of Bellow Couplings.

This coupling features a unique keyed tapered hub design allowing it to be quickly mounted and dismounted. When the two coupling halves are properly pretensioned this coupling is torsionally rigid with zero backlash. The stainless steel bellow compensates for axial, angular, and lateral misalignment simultaneously making this one of the most versitile couplings on the market.

Conventional hub designs incorporate a tightening screw requiring the assembler to access the coupling through a hole in a flange in order to assemble it to a shaft. Often in a break-down maintenance situation the tightening screw does not line up with the flange access hole making nearly impossible to disassemble the coupling from the drive shaft. The MK5 is the perfect solution in this situation. The bellow also isolates the shaft bearings of the drive and driven elements from any side loading due to misalignment, thus extending their service life.

These torsionally rigid, low moment of inertia, couplings are specifically suited for high dynamic servo and stepper motor applications like small NC and CNC machine tools, robotic drives, linear actuators, etc.

The shaft hubs are custom bored on each side for shaft sizes from 3 to 20mm (0.12 to 0.79 in.) with or without keyways.

Sizes are available for torque capacities ranging from 0.5 to 10Nm (4.5 to 88.5 in. lbs.).

Contact R+W America at 630.521.9911 for more information or visit our website at www.rw-america.com
More from Fasteners & Hardware