Bell-Shaped Rubber Mountings dampen shock and vibration.
Press Release Summary: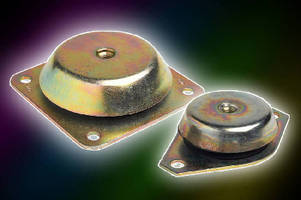 Suited for static loads up to 1,956 lbf, V12Z55M062M Series is made from combination of natural rubber and styrene-butadiene rubber compound for pliability and elasticity. Of 12 isolators in series, 2 have 4-hole mounting and 10 have 2-hole mount configuration. All feature welded steel plated nut at top of housing. With durometer hardness ranges of 45 and 60 ±5, mountings are suitable for use under controllers, large pumps, fans, motors, compressors, and other medium load equipment.
---
Original Press Release:

New Series of Bell-Shaped Rubber Mountings from AAC Are Designed to Dampen Shock and Vibration



(New Hyde Park, NY) -- A new series of bell-shaped rubber mountings from Advanced Antivibration Components (AAC) are designed to dampen shock and vibration for loads up to 887 kgf (1956 lbf). Identified as the V12Z55M062M... Series, they are made from a combination of natural rubber and styrene-butadiene rubber compound to offer excellent pliability and elasticity. Of the 12 isolators in the series, two have a four-hole mounting and ten have a two-hole mount configuration. They all feature a welded steel plated nut at the top of the housing. They are available at the AAC eStore where you can order online, request a quote, download CAD models, check stock plus view catalog and technical pages.

Typical applications include their use under controllers, large pumps, fans, motors, compressors, and other medium load equipment. Designed for use in compression their durometer hardness ranges are 45 and 60 ±5. Their static loads range from 196 kgf to 887 kgf (432 lbf to 1956 lbf).

AAC stocks a wide range of antivibration and shock isolation products, which include: stud & nut type mounts, base plate fastened mounts, wheels, leveling & foot mounts, suspension mounts, spring, steel mesh & cable mounts, bumpers, shock absorbers & channel mounts, bushings & grommets, pads & tapes, and couplings. These products are stocked in different materials including: rubber, neoprene, urethane, Sorbothane®, stainless steel mesh and springs. Many are suitable for use in extreme environmental conditions. Of special interest is a complete selection of Silicone Gel floor mounts, pads, sheets, plus paste-type thermal gel.

Additional technical specifications are contained in Catalog V110 or at www.vibrationmounts.com.

Advanced Antivibration Components (AAC), 2101 Jericho Turnpike, Box 5416, New Hyde Park, New York 11042-5416. Phone: 516-328-3662. Fax: 516-328-3365 Web: http://vibrationmounts.com/NewProducts/Bell-ShapedMounts.htm

More from Electronic Components & Devices