Bell-Shaped Knobs provide slip-proof turning action.
Press Release Summary: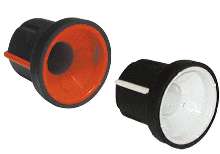 Bell-Shaped, 16 mm Knobs come in soft touch or hard plastic and accept standard, pan European D-shape for 6 mm shafts with 4.5 mm flat. Indicator lines come in various orientations including flat or shaft to 0, 90, 180, and 270°. Knobs are pressed into place over encoder or switch and 2 internal pressure ridges keep them in place. Units employ 2-shot injection design, where one layer of molding covers second layer. Soft touch versions utilize firm rubberized material.
---
Original Press Release:
Elma's New Bell-Shaped Knobs are Space Saving and Ergonomic

FREMONT, California, Feb. 10, 2004 - Elma Electronic, a leading designer and manufacturer of rotary components and electronic packaging products, is expanding its electronics knob line with new "bell shaped" or "top-hat" designs in two finishes. The unique shape is both ergonomic and space saving. These 16mm knobs come in soft touch or hard plastic designs, with several indicator line orientations.

The bell or top-hat shaped knobs accept standard, "pan European" D-shape for 6mm shafts with a 4.5mm flat. Indicator lines or dots for pointing references come in various orientations - flat of shaft to 0, 90, 180 and 270 degrees. The indicator lines are available in blue or white. These exclusive design knobs are used in various medical, audio, defense, and industrial applications.

Simply press the knob into place over the encoder or switch and the knob's two internal pressure ridges keep it securely in place under a variety of operating conditions, yet they can be easily removed in necessary. The new range of knobs employ a 2-shot injection design, where one layer of molding covers a second layer. The soft touch versions utilize a firm rubberized material for a soft touch feel.

The bell-shaped knobs also have finger grooves for slip-proof turning action. This adds both ergonomic and aesthetic value. Also, the bottom of the knobs has an expanded diameter, which helps to conceal the panel-mounting nut.

Elma also offers collet knobs in various styles and sizes.

Elma's bell-shaped knobs are approximately $0.60/ea in volume and have a 2 week lead time. For more information on Elma's concentric switches, knobs, and custom design services, please contact Mark Thorsell at 510-656-5829 x228.

About Elma Electronic

Elma Electronic Inc. is a leading manufacturer and supplier of enclosures, backplanes, cabinets, cases, and "ready-to-run" packaging for CPCI, Rugged COTS, VME/64x, VXI, PC and custom bus structures. Elma's component product line offers a wide selection of top quality switches knobs and LED arrays. The company has been a worldwide supplier of dependable, high performance products for over 35 years. Elma operates three facilities in the continental United States plus has locations in Switzerland, Germany, France, the United Kingdom and Israel.

Elma Electronic Inc. is located at 44350 Grimmer Blvd., Fremont, CA 94538 USA. Telephone (510) 656-3400 - Fax (510) 656-3783. www.elma.com

Justin Moll

Director of Marketing

Bustronic, An Elma Company

510-490-7388 x516

www.bustronic.com
More from Explosives, Armaments, and Weaponry