Bel-Art Products' Manufacturing Team Designs Award-Winning Foldable Wheelchair Wheels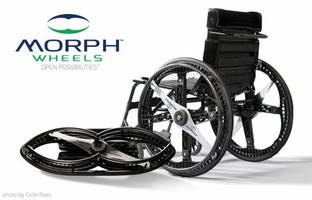 Wayne, NJ – Bel-Art Products (www.belart.com), a leading plastics and wire manufacturer of product solutions for science, industry and healthcare headquartered in Wayne, NJ, announced that a product developed by the company's engineers has won a major award from Popular Science magazine. Morph™ Wheels (www.morphwheels.com), the world's first-ever foldable wheelchair wheels marketed by Maddak, Inc., a division of Bel-Art, received the 2013 Popular Science "Best of What's New" award in the Health category. Each year Popular Science reviews thousands of new products and chooses the top 100 winners across 12 categories for inclusion.



"Customers know and love our Scienceware® and H-B Instrument™ brand products, but many do not realize that Bel-Art also develops a wide variety of other products through our subsidiaries and custom manufacturing services," said Shirley Miller, Director of Marketing. Miller went on to explain, "Morph™ wheels were originally conceptualized as a folding bicycle wheel by Duncan Fitzsimmons, a graduate student at the Royal College of Arts in London. Calls from the wheelchair community for a similar product inspired Fitzsimmons to work up an initial design for a folding wheelchair wheel. When folded, the compact size of Morph wheels makes them particularly convenient for travel. For example, Morph™ Wheels fit into the overhead bin of an airplane."



"Whether an inventor has an idea for a new product that fits into our core product lines, a customer needs a specialty product made for an application or another business needs design and manufacturing support for their own product line, we have the capability and expertise to design and manufacture in a variety of areas including plastics molding, wire forming and specialty coatings."



"Since being introduced in March 2013 Morph™ wheels have won several design and innovation awards including Attendee voted Best New Product at Medtrade Spring 2013 trade fair. "The Morph™ wheel is just one example of how Bel-Art and our subsidiaries can work with customers, inventors and end users to develop innovative products" Miller added.



Bel-Art Products has several U.S. based locations including a centrally located, 115,500 square foot east coast facility on the eastern shore of Maryland that offers 26 injection molding machines, on-site mold repair and maintenance, engineering and design services, product decoration, warehousing and more. For more details on Bel-Art's Scienceware® products or the company's custom manufacturing capabilities, call 1-800-423-5278 or send an email to custom@belart.com.



About Bel-Art Products

Bel-Art Products simplifies tasks with innovative product solutions for science, industry and healthcare. Over 3,500 items from safety wash bottles to fume hoods are manufactured and marketed under well-known brand names including Scienceware® laboratory products, Spinbar® magnetic stirring bars, Magic Touch™ icewares, Sterileware® sampling tools, H-B Instrument™ thermometers and hydrometers, Secador® desiccator cabinets, KLETT® colorimeters, and Poxygrid® racks. Established in 1946, Bel-Art Products is a United States based manufacturer headquartered in Wayne, NJ. 



Contact:

Donille Massa

dmassa@belart.com – 1-800-4-BELART

Bel-Art Products, Inc.



More from Agricultural & Farming Products