Bedside Infotainment System enhances healthcare services.
Press Release Summary: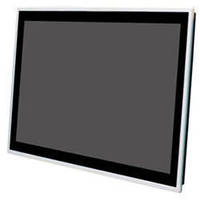 Offering entertainment as well as centralized back-office system and IT system integration, Android-based HTab meets patient, clinician, and administrator needs in patient rooms. Mobile unit employs TI OMAP™4470 Dual core Cortex™-A9 processor and has 10.1 in., 1280 x 800 (WXGA) LCD featuring 10-point projected capacitive (PCAP) multi-touch technology. This bedside, turn-key solution, due to ergonomic rolling stand with adjustable 270° swivel arm, conserves space while remaining accessible.
---
Original Press Release:

ARBOR Introduces the HTab, an All-in-one Bedside Infotainment Solution for Healthcare Services



The touch-screen, Android-based HTab offers better bedside entertainment to improve patient satisfaction while also providing interactive communication for clinicians and administrators.



ARBOR Technology, a leading provider of embedded computing solutions, is pleased to announce the release of the ARBOR HTab, a bedside turn-key solution combining healthcare and patient entertainment service. The Android-based Htab is based on a TI OMAP™4470 Dual core Cortex™-A9 processor, and has a 10.1" LCD with 1280 x 800 WXGA resolution and a 10-point projected capacitive multi touch technology, facilitating effortless and accurate touch response. Thanks to its ergonomically designed rolling stand with adjustable 270-degree swivel (front part) arm, this lightweight mobile terminal saves space while remaining easily accessible. The HTab serves as an all-in-one bedside solution for patients, clinicians and administrators in patient rooms.



To improve quality of care for patients and relieve anxiety during their hospital stay, the HTab gives patients various entertainment options and allows them to stay in touch with friends and family. The HTab combines a computer, TV, telephone, radio and other interactive functions into a single, easy-to-use touch-screen terminal that provides patients with entertainment, communication and self-service, including educational materials, room automation, meal ordering and billing. The terminal's Content Management System provides an adaptive user interface by age, language and autonomy so that patients can have a convenient and independent operation experience.



The HTab also supports a powerful centralized back-office system that integrates with primary healthcare applications, such as electronic health records, medical prescribing and image archiving. Medical staff has secure access to patient information via the HTab's built-in RFID/NFC reader so that physicians and nurses may call up the information they need for patient treatment. EMRs and related records, such as vital signs, can also be remotely managed and processed in real time via the back office, thereby increasing clinician efficiency while streamlining workflow processes.



The HTab provides easy integration with existing IT systems to guarantee uninterrupted use of applications, allowing seamless access to all affiliated business services for administrators. If desired, a magnetic RJ45 connector allows for simple migration to Power over Ethernet (PoE), reducing installation costs and space requirements. The HTab medical terminal has an IP65 compliant front panel, allowing staff to easily clean and disinfect the device with water or detergents.



To learn more about HTab, please visit here, contact a local sales representative for more information, or email us at info@arbor.com.tw

More from Controls & Controllers