Beckwood Delivers 400-Ton Titanium Hot Forming Press to Midwest Aerospace Supplier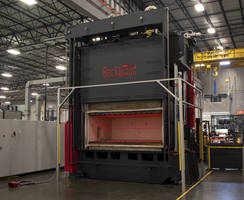 St. Louis, MO -- Beckwood Press Company, a leading manufacturer of custom hydraulic and servo-electric presses, automation systems, and the Triform line of precision forming equipment, recently delivered a 400-ton hydraulic hot forming press to a major supplier of titanium aerospace structural components in the Midwest.
The press features 48-in. x 96-in platens capable of reaching temperatures up to 1,800-degrees Fahrenheit via multi-zone electric cartridge heaters. Automated, insulated doors on the front and rear of the press prevent heat loss during the cycle and facilitate safe part loading and unloading while hinged access doors on each side allow for periodic progress monitoring. Additionally, Beckwood's proprietary Active Leveling Control (ALC) system ensures +/-0.004-in. bed-to-ram parallelism is maintained despite off-center loading or die warpage due to the high temperatures.
This is the second titanium hot forming press installed at this location since 2017.
About Beckwood Press Company
Beckwood Press Company is a leading manufacturer of hydraulic and servo-electric presses, located in St. Louis, MO - USA. Established in 1976, they offer both standard and custom presses as well as automation equipment for virtually every industry and application, including a line of temperature-controlled presses for compression molding and high-temperature hot forming / SPF applications. Beckwood also manufactures the Triform line of precision forming equipment and the EVOx line of servo-electric presses. Get the latest news from Beckwood at beckwoodpress.com/news.
Contact:
Christie Williams
+1-800-737-0111, Ext. 133
info@beckwoodpress.com