Beckhoff Launches AMP8000 Distributed Servo System for Promoting Safety Technology
Press Release Summary: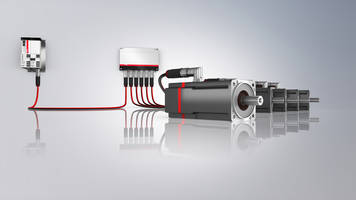 The AMP8000 Distributed Servo System offer power ratings from 0.61 to 1.23 kW and standstill torque from 2.00 to 4.8 Nm (F4 flange size) and 1.02 to 1.78 kW and standstill torque ratings from 4.10 to 9.7 Nm (F5 flange). The unit can operate up to five drives using an EtherCAT P One Cable Automation solution and EtherCAT industrial Ethernet communication. It minimizes the need of electronics, mechanical hardware and cabling.
---
Original Press Release:
Beckhoff AMP8000 Distributed Servo System to Debut in North America at Pack Expo 2018
Space-saving servo drives, compact IPCs and TSN-ready I/O systems top the list of new smart factory automation and control solutions
SAVAGE, Minnesota, August 23, 2018 – Beckhoff Automation will demonstrate its new AMP8000 distributed servo drive system alongside a complete lineup of automation hardware, software and networking solutions at Pack Expo 2018 in Chicago. Beckhoff will showcase packaging machine control systems that can power the smart factory of today in booth S-3183 at the McCormick Place convention center's south building during the trade show, which is expected to draw 50,000 global attendees from more than 40 vertical markets from October 14 – 17, 2018.
Motion control for the smart factory with AMP8000 servo system
The AMP8000 distributed servo drive system from Beckhoff promotes advanced motion control architectures that are cost-effective, highly efficient and easily adjustable through dramatic reductions in electronics, mechanical hardware and cabling. By combining a servo drive and servomotor into one device, the AMP8000 system reduces overall packaging machine footprint and space requirements inside control cabinets and enclosures. A single coupling module can operate up to five drives using the EtherCAT P One Cable Automation solution that supplies industrial-grade power and EtherCAT industrial Ethernet communication.
Requiring no alterations to the existing machines, the AMP8000 boasts power ratings from 0.61 to 1.23 kW and standstill torque ratings from 2.00 to 4.8 Nm at an F4 flange size or power ratings from 1.02 to 1.78 kW and standstill torque ratings from 4.10 to 9.7 Nm with an F5 flange. The servo drive system also represents the Beckhoff commitment to promoting safety technology in all areas via integrated STO and SS1 safety functions.
IoT hardware, software and networking in one convenient package
To supply entire smart factories, Beckhoff will display a number of IoT-ready automation and control solutions at Pack Expo. Expanding into the realm of Time-Sensitive Networking (TSN), Beckhoff will also introduce the EK1000 EtherCAT TSN Coupler to Pack Expo attendees. The EK1000 expands the Beckhoff EtherCAT I/O system's industrial networking interoperability to include TSN, which is now added to other connectivity and IoT standards, such as OPC UA, multiple industrial Ethernet protocols and all legacy fieldbuses. This makes migration to new vertical and horizontal communication systems easier and permits easy IoT and cloud retrofits for industrial systems already in the field.
Representing the newest generation of Beckhoff Industrial PCs (IPCs), the C6015, C6017 and C6030 IPCs are Microsoft Azure™ Certified and just as capable to work with Amazon Web Services (AWS), SAP HANA and other major cloud services. The first entry into this range, the C6015, incorporates an Intel® Atom™ processor (up to four cores), and the newer C6030 uses Intel® Core™ i-series processors of the 6th and 7th Generation. The latest entry into the range, the C6017, offers the same Intel® Atom™ processors found in the C6015, but adds two more RJ45 interfaces and two additional USB 2.0 ports. An optional capacitive 1-second UPS is also available in the C6017. The three IPCs are ideally suited for all IoT, machine control, cloud connectivity and edge device requirements in manufacturing.
TwinCAT software updates have added a number of important tools for packaging machine builders and end users, including expanded data processing through TwinCAT Analytics and HTML5-enabled TwinCAT HMI for industrial displays and mobile devices. In addition, TwinCAT Motion Designer supplies additional tools to commission entire motor, drive and mechanical systems in software, whether integrated into the TwinCAT 3 platform or used as a stand-alone motion system engineering tool.
"The packaging industry works hard to support a range of manufacturers in food, beverage and other consumer good markets, so companies need to know their automation and control systems are as reliable as they are innovative," said Aurelio Banda, CEO and president of Beckhoff Automation LLC. "As North America's premier packaging trade show, Pack Expo is the perfect venue for Beckhoff to present our best solutions for hardware, software and industrial networking to the entire packaging community. The space-saving, efficient motion control of the AMP8000, IoT and cloud capable IPCs, plus the EtherCAT and TSN capabilities of the EK1000 are all compelling new solutions that can quickly turn packaging and production operations of any size into smart factories today."
Beckhoff Automation is a provider of advanced and open automation solutions based upon proven technologies for customers to implement high-performance control systems faster and at a lower overall cost than traditional PLC and motion control systems. Beckhoff's "New Automation Technology" product range includes PC-based control, industrial PCs, automation controllers, operator interfaces, I/O, servo drives and motors. With representation in more than 75 countries, Beckhoff is well-positioned to provide global sales and service to its customers. Beckhoff sales and service are handled directly, with no intermediaries involved for exceptional customer service and consultation.
Media Contact:
Shane Novacek
Beckhoff Automation
Phone: 952-808-6515
Twitter: @BeckhoffUSA
Beckhoff Automation LLC
13130 Dakota Ave
Savage, MN 55378
Toll-free: 1-877-TwinCAT
Local: 952-890-0000
Fax: 952-890-2888
Email: beckhoff.usa@beckhoff.com
Twitter: @BeckhoffUSA
More from Software