Bearon Manufacturing Increases its Machining Capacity with Four New CNC Machines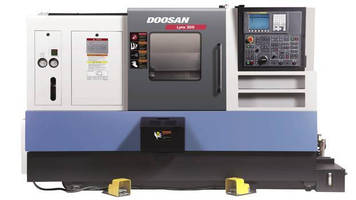 Bearon Manufacturing, Inc, located in Manheim, Pa, has added four new CNC Machines to add to our Machining capabilities.    We are committed to growing our capacities to keep up with increasing demand from our customers and have additional capacity for new customers.



The Doosan CNC Turning Center with Bar Feed has a 2½" Diameter Capacity.  Turning Solutions includes highly complex multi-tasking turning centers for completing both milling and turning operations in a single set-up.     



The Haas Vertical CNC Mini Mill.  This machine is the industry standard for compact machining.



The Doosan Turning Center 440B with an 18" Chuck- This Powerful Heavy Duty Turning Center offers High-precision horizontal turning that enables high-power heavy duty cutting via the box guideway and gear shift, with Extra long shaft turning.



Doosan Turning Center Puma 300MC with 12" Chuck with Live Tooling. This machine is designed for heavy and interrupted cutting, long-term high accuracy, and superior surface finishes. The High speed turret indexing and fast rapid traverse rates minimize non-cutting time. The mill-drill capability reduces the need for secondary machining on other machines helping to eliminate additional machine set-ups and handling costs.



About Bearon Manufacturing:

Bearon Manufacturing, Inc  has been servicing Industry Since 1980.  We specialize in Supplying  and Machining Castings and CNC Machining Services.  We also provide fabrication and finishing services. We supply castings in a variety of materials including Aluminum, Brass, Bronze, Cast Iron, Ductile Iron, Malleable Iron for many Applications.  Our capabilities include CNC Machining, Drilling, Tapping, CNC Milling, CNC Turning and Bar Stock Machining.  We can also provide Steel and Aluminum Weldments for Production or Prototype, convert Weldments to Castings, and provide Assemblies.  We also provide Finishing services including Plating, Powder Coating, Painting and Anodizing.



For more information please call 717-898-2210 or visit our website www.bearonmfg.com.





More from Electrical Equipment & Systems